Expat Awards Category
This is the award for the best expat blog. There are massive communities of expats spread across the globe, keeping in touch via blogs. This award is to recognise the hard work that they put in to creating sites that inform us all about their life and experiences getting to know a new country. Living with a new culture for an extended period of time is certainly a great starting point for a blog, especially when comparisons to home can be made. However, it takes skill to turn this into a good all round site with interesting and original content and layout.
Deciding on the winners of this award was difficult, within the category there are a wide range of fascinating perspectives offered from hundreds of destinations. After scouring the internet, our experts found a list of the best and most popular expat blogs. From this, the short list was drawn. We believe the recipients to be the leaders in their class, standing above the rest with a unique blend of incisive writing and good design that is worthy of public acclaim.
Expats can be a great source of on-the-ground information for travellers. Not only can they give an insight into the contrast in lifestyles and cultures they are experiencing, but they can also give local advice for travellers. Especially when going to a far flung destination, some local knowledge from an expat can be invaluable. A quality expat blog will not only entertain and spark interest but will also provide useful insights for visitors. This might include such details as the idiosyncrasies of regional customs, places to eat and stay, and things to try and do.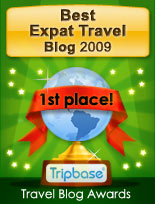 1st

http://expatyank.wordpress.com/

2nd

http://www.yucatanliving.com/

3rd

http://paddyinba.blogspot.com/

4th

http://2gringos.blogspot.com/

5th

http://empty-nest-expat.blogspot.com/

6th

http://expatmama.blogspot.com/

7th

http://www.amiexpat.com/

8th

http://www.expatcapetown.com/

9th

http://paulancheta.blogspot.com/

10th

http://areason2write.wordpress.com/

Finalist

http://singaporeaninlondon.blogspot.com/

Finalist

http://bleedingespresso.com/

Finalist

http://expat21.wordpress.com/

Finalist

http://osakajo-expatfromhell.blogspot.com/

Finalist

http://duisburgbunny.blogspot.com/

Finalist

http://jamaicanincork.blogspot.com/

Finalist

http://saffaexpats.blogspot.com/

Finalist

http://thebarbadosblog.com/

Finalist

http://anotheramericanexpat.blogspot.com/

Finalist

http://chennai-expat.blogspot.com/
---
Click here to return to the Tripbase Blog Awards Homepage
---