Travel/Food Awards Category
This is the award for the best travel food blogs. The award is given to only the top blogs in this category, judged against the criteria of content, interest, originality and popularity. There are many people out there blogging on the wonders of the new and exotic foods they come across on their travels. However it takes an astutely creative and insightful writer to present these findings to people outside of the experience in a captivating, interesting and inspiring way. The blogs we have chosen to receive this award sum up these qualities for our expert panel and can be held up as leaders in the field.
To sift out the winners in this category our team of experts have gone out on to the internet and searched through thousands of potential candidates. From all that excel in the field of travel food, the few blogs that stand out for quality and originality have been handpicked to receive this accolade. It is our way of showing appreciation for the hard work needed to make a successful blog, highlighting for public recognition those who are doing more to inform, entertain and enrich our understanding of world foods and cultures.
Food is something that we all need and as such it is the centre of cultures around the world. The travel food writer is in a unique position, they are able to not only discover new flavours and foods but gain a firsthand insight into the people and the place that inspire them. A good travel food blog is creative, full of discovery and adventure, as well as being informative, well laid out and accessible.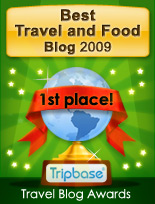 1st

http://www.eatingasia.typepad.com/

2nd

http://mykugelhopf.ch/

3rd

http://ramblingspoon.com/blog/

4th

http://www.travelerslunchbox.com/

5th

http://www.parlafood.com/

6th

http://www.sergetheconcierge.com/

7th

http://www.enjoyfoodtravel.com/

8th

http://thaifoodandtravel.com/blog/

9th

http://www.msadventuresinitaly.com/blog/

10th

http://www.simpleitaly.com/

Finalist

http://youngandfoodish.com/

Finalist

http://www.frenchduck.com/index.html

Finalist

http://blog.wanderingspoon.com/

Finalist

http://lannaelong.blogspot.com/

Finalist

http://cwfoodtravel.blogspot.com/

Finalist

http://www.paulstravelblog.com/

Finalist

http://www.notquitenigella.com/

Finalist

http://penandfork.wordpress.com/

Finalist

http://www.provencepost.com/

Finalist

http://www.tasteslikehome.org/
---
Click here to return to the Tripbase Blog Awards Homepage
---