Home
>> 100 Of Our Favourite Travel Writers

<< Previous 10
Next 10 >>
61.
David Atkinson
http://www.atkinsondavid.co.uk/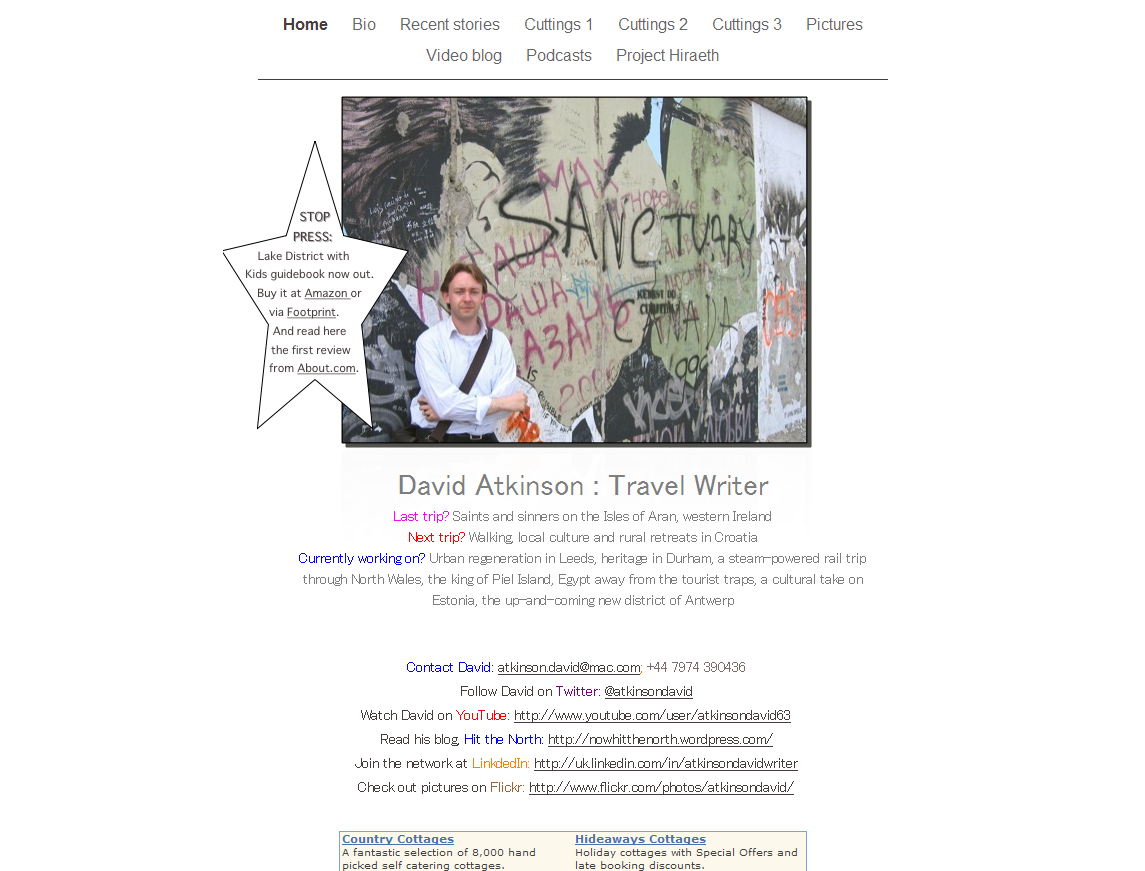 Highlights
David is a renowned and appreciated travel journalist, recognized for his high quality of work. He is an award winning writer and has written guides for The Lonely Planet alongside reviews for The Hotel Guru and Travel Intelligence. He has also written a Footprint Guide to touring the UK's Lake District with family in tow
Why Should David Become My New Favorite Writer?
David displays a light air to his writing and a fair dose of humor, so superb in its descriptive manner that the reader can essentially imagine every stage of the tale being told as a personal story unfolding around them.
Top Picks:
One fine example of his high-profile work.
62
Kelly Pipes
http://sandwagon.blogspot.com/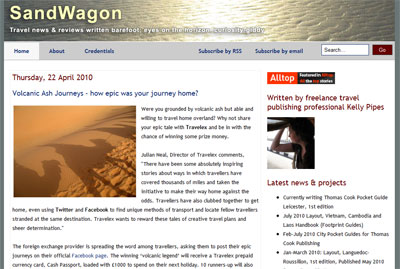 Highlights
Kelly is a travel writer, blogger and editor who likes to feel the wind in her hair and has her eyes set on the horizon looking out for the next offbeat travel news story. Based in the UK, her mixed bag of commissions have taken her everywhere from Egypt's Valley of the Kings to the city of Sarajevo. Tracking vintage trams around the city of Porto in the pouring rain stands out as a fairly surreal moment in her career.
Why Should Kelly Become My New Favorite Writer?
She seeks out the stories that the mainstream travel press usually leave behind. Her writing is honest and her industry contacts are widespread, which gives her writing an authoritative view point and a passionate voice.
Top Picks:
Her honest reflections on scuba diving in Egypt avoid the cocky bravado you'll find in some dive magazines
63.
David Armstrong
http://www.wishyouwereheretravel.net/
Highlights
A skillfully adept writer working with the San Francisco Chronicle and San Francisco Examiner, David has seen many places and met just as many people. He also contributes to the Aviation.com and TheStreet.com sites and tops his bibliography off with an exceptional book, "Secret San Francisco."
Why Should David Become My New Favorite Writer?
David has a commendable ability to write about any subject with a charm that is quite rare. He manages to insert an astounding amount of knowledge in such small spaces with ease while never overwhelming the reader.
Top Picks:
David's comprehensive article on budget travel in Tokyo.
64.
Carl Parkes
http://travelwriters.blogspot.com/
Highlights
The award-winning travel writer Carl Parkes has had quite a journey to arrive where he is today. Originally a stock broker, Carl decided to take a twelve month tour from Japan to Sri Lanka and returned to work as a stock broker, only to decide that travel writing was the love of his life. In the fifteen years since, he has published five guide books through Moon Publications and a travel guide for National Geographic on Thailand.
Why Should Carl Become My New Favorite Writer?
In recognition for his skill, Carl has received two (yes, two) Lowell Thomas awards for his writing. He writes with a passion that hasn't waned over his fifteen year career and to read any of his work brings a certainty that you'll come away from it a great deal more informed than when you began.
Top Picks:
A blog post by Carl on Phuket, Thailand.
65.
Anja Mutic
http://everthenomad.com/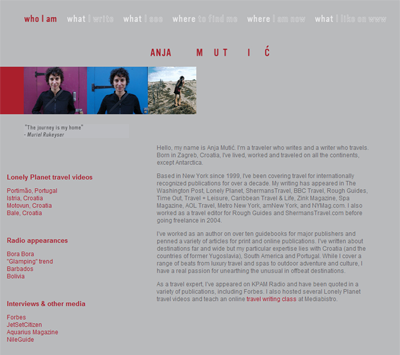 Highlights
Anja is a rustic writer with an extensive history in journalism and travel writing. Her works have been featured in the Washington Post, Lonely Planet, Rough Guides and Time Out to list just a few of her impressive credentials. She has also created ten guide books with a distinct knowledge of Croatia, Portugal and South America.
Why Should Anja Become My New Favorite Writer?
Anja is a profoundly lyrical wordsmith and always writes from the heart. She analyses her subjects with unwavering intent and never strays far from her chosen topic, yet writes in a colorful manner that takes the reader on a long, winding road through to the very core of her subject matter.
Top Picks:
A mouth-watering treat featured in The Washington Post.
66.
Colleen Friesen
http://colleenfriesen.com/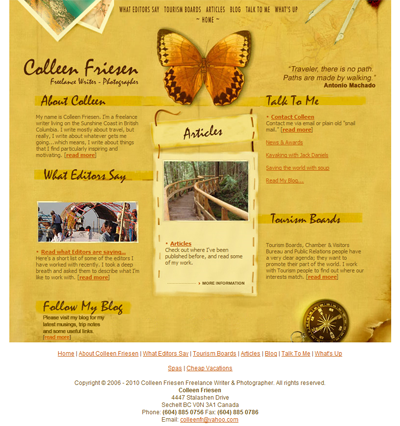 Highlights
Colleen has been writing prolifically within her blog upon realizing that her desire to keep a journal compelled her even more than her love of reading. In the last ten years, Colleen has not only made a point of making huge entries into her daily blog but made it a habit. Her work has been published in a number of massive literary publications including, but not limited to, Opulence magazine, Shared Vision, Alive, Spa Life and West World magazine.
Why Should Colleen Become My New Favorite Writer?
If you exercise your craft this extensively, it is of no surprise that you end up becoming an unparalleled writer (and pick up a few fans along the way). Her website is one of the most attractive, too.
Top Picks:
"Kayaking The Suwannee River", a Canoe & Kayak Web Exclusive.
67.
Eva Holland
http://evaholland.com/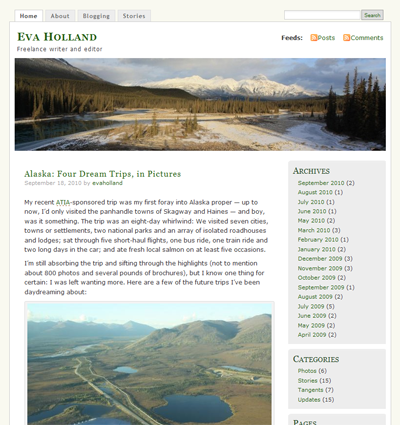 Highlights
As a travel writer, there is little that Eva Holland hasn't either written an article or blogged about. Some highlights include her great coverage of the Beijing Olympics, and she has enjoyed extensive road trips from one end of the United States to the other. Eva holds an MA in History and was a history researcher prior to becoming a full time freelance writer.
Why Should Eva Become My New Favorite Writer?
Eva is a prolific author and has a large collection of blog posts which all capture the spirit of adventure travel. She always paints a vivid picture of not only the highs of a voyage but also the lows, as a result creating absorbing stories which hook you in from the off.
Top Picks:
An article from Eva at the top of her form.
68.
David Miller
http://www.miller-david.com/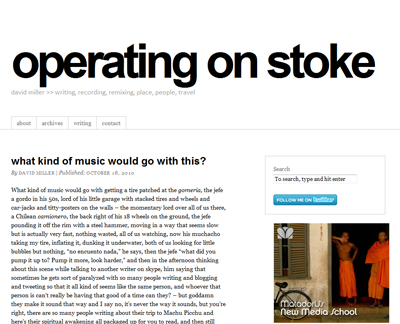 Highlights
David is an American editor for the Matador network and has many hobbies as well as travel, including snowboarding, surfing and kayaking. He has written a large amount of articles for a number of websites and online publications, all of which are humorous and make for light reading whilst also being mentally engaging.
Why Should David Become My New Favorite Writer?
David possesses an endless supply of quick quips and seems to be able to draw from them fluently and smoothly. He utilizes his extensive knowledge when crafting an article and in conjunction with his amusing and positive outlook, he creates a sense of genuine delight for his readership.
Top Picks:
A smart piece on travel psychology.
69.
Hal Amen
http://www.wayworded.blogspot.com/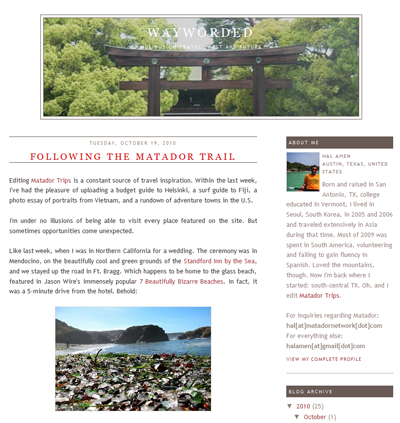 Highlights
Hal Amen is an American-born writer and has travelled extensively throughout Asia, and called Seoul his home between 2005 and 2006. He is a dedicated blogger and edits for Matador Trips. His blog provides exclusive perspectives on life in South America, and during his volunteer work attempted (with little luck) to learn Spanish.
Why Should Hal Become My New Favorite Writer?
Hal is a comedian at heart and he incorporates this whenever he has the opportunity during his discourses on travelling the world. His carefree attitude gives him a certain levity which makes his writing seem relaxed, and as a person he is likeable to say the least. In addition, he offers a wealth of stunning photography to compliment his texts.
Top Picks:
Hal optimistically offers a solid bunch of reasons why travelling with parents in adult life always makes for a safe trip.
70.
Dale Morris
http://www.geckoeye.com/index.php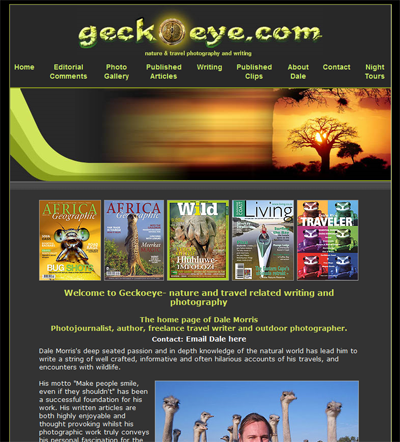 Highlights
Dale and his family originate from the UK but currently reside in South Africa where he works as a professional travel writer and photographer. He also has an impressive history in film, having worked with documentary crews from Thailand to Costa Rica in a number of roles (including but by no means limited to his expertise as an animal handler). Dale's conservation and animal welfare work around the world is also noteworthy.
Why Should Dale Become My New Favorite Writer?
Dale's knowledge and passion for the animal kingdom is second to none, and checking out his work in any media is always a captivating experience. As well as being an expert in multiple disciplines, his subject matter is incredibly varied and comes highly recommended to the lover of nature.
Top Picks:
Peruse Dale's astounding back catalogue through his homepage.
<< Previous 10
Next 10 >>
Find us on Google+