Budget Travel Awards Category
This is the award for the best budget travel blogs. We have selected the top blogs for recognition on the grounds of their content, information, reliability, popularity and originality. There can be many myths surrounding budget travel. Sometimes it seems as though there is nowhere you can go and nothing you can do without money in your pocket. However, the best bloggers on this issue will seek to breakdown misconceptions and offer great advice and inspiration to travellers who are on a tight budget or simply wish to save money. We focus on finding the most informative, insightful and inspiring blogs. The recipients of this award will not only be skilled in giving practical advice but also in motivating followers to get out there and experience new things regardless of budget constraints.
Our panel of experts have rigorously scoured the internet, looking for the blogs that best meet their high standards. The leaders in the field will all make the short list, but following discussions based around the criteria above, the deserving winners are chosen. The recipients of this accolade are to be praised for their effort, determination and creativity as authorities in the sector.
Budget travel is something that is especially relevant in the current economic climate. Many people are having to tighten their belts and luxuries such as vacations and foreign travel are the first costs to be cut. In spite of this, the best bloggers are telling us not to make that sacrifice but to instead learn to travel in a different way. It is this spirit that we want to celebrate. Travel has so much to offer, it can allow us the time to relax, to experience new things and different cultures and above all create fun memories to last a lifetime. These things don't have to be expensive and we look to the best budget travel blogs to inspire this view.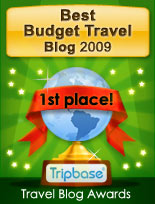 1st

http://www.vagablogging.net/

2nd

http://www.eurocheapo.com/blog/

3rd

http://budgettravel.about.com/b/

4th

http://frugaltravelguy.blogspot.com/

5th

http://www.hostelbloggers.com/

6th

http://nobudgettravel.wordpress.com/

7th

http://www.backpackers.com/

8th

http://www.alexrobertsontextor.com/

9th

http://www.vagabondish.com/

10th

http://www.hobotraveler.com/blogger.html

Finalist

http://gobudgettravel.com/budget-travel-destinations/11

Finalist

http://www.cheapholidayaccommodation.com/blog/

Finalist

http://www.costlytravelmistakes.com/

Finalist

http://www.cheapholidayfinder.co.uk/

Finalist

http://www.aussiebackpacker.com.au/about.htm

Finalist

http://www.cheap-vacations-and-travel.com/index.html

Finalist

http://www.sleepinginairports.net/

Finalist

http://www.globecheap.com/blog/

Finalist

http://champagnetravelonabeerbudget.com/

Finalist

http://www.frugal-rv-travel.com/rv-blog.html
---
Click here to return to the Tripbase Blog Awards Homepage
---