Family Awards Category
This is the award for the best family travel blog. Travelling with a family in tow can seem like an impossibly difficult and expensive mission but there are some great bloggers out there advising on the issue. This award is given to the top family travel blogs, judged against the criteria of content, interest, originality and popularity. We have looked for the best champions of the great family holiday and for those blogs that inspire and motivate people into exploring new vacation ideas.
Choosing the winners in this category was difficult because of the variety of angles bloggers can take. After searching the internet, we picked the recipients out of a long list on the grounds on quality and popularity. We want to praise those who encourage families to travel together by publicly acknowledging their achievements with this prestigious award.
The best family travel blogs will not only provide quality information, advice and ideas but also back it up with experience. When looking for a holiday or travel arrangements that will be suitable for the whole family, it is good to hear the recommendations of someone that has firsthand experience. We look for bloggers with original destination, travel and activity ideas who can also give good advice on vacation planning and organising. The idea is that the blog is interesting, even humorous, without compromising on utility.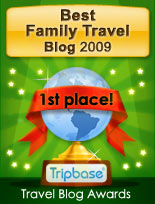 1st

http://onthegowithamy.blogspot.com/

2nd

http://www.familytravellogue.com/

3rd

http://www.deliciousbaby.com/

4th

http://www.familytravelguides.com/

5th

http://travelingmamas.com/

6th

http://www.soultravelers3.com/blog-index.html

7th

http://www.ciaobambino.com/ciaobambinoblog/index.php

8th

http://www.motherofalltrips.com/

9th

http://www.backpacktobuggy.com/

10th

http://www.travelswithbaby.com/

Finalist

http://www.travelsavvymom.com/

Finalist

http://www.doubletheadventure.com/

Finalist

http://nickbowditchtravel.com/

Finalist

http://www.letstakethekidstravel.com/Welcome.htm

Finalist

http://littlenomads.com/

Finalist

http://www.takingthekids.com/

Finalist

http://www.twoandahalftravelers.com/

Finalist

http://bestkidfriendlytravel.com/

Finalist

http://blog.travelingwithkids.com/

Finalist

http://cashfamilytravel.blogspot.com/
---
Click here to return to the Tripbase Blog Awards Homepage
---