Travel Photography Awards Category
These awards for the best travel photography blogs are handed out only to the best and brightest blogs in their respective category and as such, have to undergo a rigorous selection process which is overseen by our panel of judges.
The original list of nominees is hand-picked by our judges who head out into the internet and find the best blogs they can. This list is then scrutinised using several criteria (more of which, below) and are then compared and contrasted then with one another in order to emerge with the winners.
The award itself is something that can be worn as a badge of pride, and the awarded bloggers can know that their blog has been scored highly by our judges. It is a sign that a blog achieves what it sets out to do, is a beneficial source of information for readers and is a well-respected member of the blogging community.
The award for best photography blog is given to those fortunate few bloggers that were able to combine a wide range of incredible photos along with evident enthusiasm for their work, which is keeping fellow travel enthusiasts well-versed with what was happening along the away, also allowing readers to live vicariously through the blogger and being able to indulge in their passion of travelling. The judges of this category took into account the overall layout of the blog and ease of access to the content, also, as the look and style of the blog being displayed is imperative, accompanying pictures and any video were of course held to be of high importance in the judging criteria for these blogs.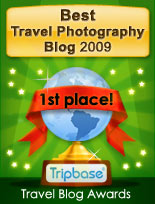 1st

http://blog.chasejarvis.com/blog/

2nd

http://www.ramblingtraveler.com/

3rd

http://moroccanmaryam.typepad.com/

4th

http://thetravelphotographer.blogspot.com/

5th

http://www.jmg-galleries.com/blog/

6th

http://www.stuckincustoms.com/

7th

http://www.adventuresoftimtim.blogspot.com/

8th

http://olgathetravelingbra.blogspot.com/

9th

http://www.bobkrist.com/blog/

10th

http://www.aguntherphotography.com/

Finalist

http://www.reasontowander.com/

Finalist

http://travelvice.com/

Finalist

http://www.wildernessdiary.com/

Finalist

http://joelcarillet.com/photoblog

Finalist

http://peregrinebynature.com/

Finalist

http://www.taylordavidson.com/writing/

Finalist

http://taiwan-photography-blog.com/

Finalist

http://www.genkin.org/blog/

Finalist

http://www.yktravelphoto.com/blog/en

Finalist

http://www.jasontopia.com/
---
Click here to return to the Tripbase Blog Awards Homepage
---