Walkabout in the UK

www.walkaboutintheuk.co.uk/

Walkabout in the UK is run by John Hee, an outdoors enthusiast who enjoys "the peace and quiet of his own thoughts". Thankfully, he's willing to share them here.

CheapTents blog

www.blog.cheaptents.com/

The CheapTents site is not only an excellent place to source camping bargains, but also a great blog reviewing equipment without prejudice.

Glamping blog

www.goglamourcamping.com/

"Glamping", a portmanteau of "glamour" and "camping", has become a buzzword of late. The Glamping Blog is the best place to get the lowdown on this novel way of getting back to basics without sacrificing creature comforts.

Outdoor Scotland

www.outdoorscotland.co.uk/

With its untamed landscape, Scotland is by far one of the world's best countries for camping. Outdoor Scotland should be your first stop for picking up everything you need, with the onsite blog keeping you up to date.

Camping Blogger

www.campingblogger.net/

Camping holidays often make for affordable family holidays. No matter what size your tribe is, Camping Blogger is a useful resource for finding family-friendly locations and equipment.

Camping Tourist

www.campingtourist.com/

Who says a camping holiday has to take place in a muddy field? Certainly not Camping Tourist, who strive to bring us the latest in luxury equipment and exotic camp locations.

Cool Camping

www.coolcamping.co.uk/

The team at Cool Camping clearly believe in keeping it simple, all the while offering featured articles on little-known camping havens. They also offer their own range of highly recommended camping books on the British Isles and Europe (including a brilliant guide on camping at festivals).

Camping Expert

www.campingexpert.co.uk/

A treasure trove of information useful for both seasoned camping experts and hobbyists, with over 130 expertly-written articles. Particularly handy is a section on camping recipes, helping you go beyond the baked-beans-in-a-can staple of camping trips.

LoveCamping

www.lovecamping.co.uk/

As stated on the site, LoveCamping aims to be "the most useful and comprehensive campsite and camping equipment website in the UK" and we think they're succeeding on that front.

Campingo

www.campingo.com/campsite.html

The Campingo site is a good resource for finding campgrounds in all corners of the globe, with user reviews giving you an indication of what to expect when you get there.

Pitch Up

www.pitchup.com/

With a very fine-tuned search, a quick visit to Pitch Up will find you the best campground in the UK to suit your budget and preferences. Highly recommended.

Camping Earth

www.campingearth.com/

Want to know when the next camping show near to you is? Want to see excellent video articles on all things camp related? Camping Earth is a intuitively-managed camp website packed with handy information.
Get your badge here
Choose one of these badges to show on your website by copying the code below into the html for your site, including a link back to this page...
Large 185x110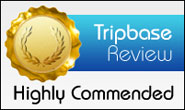 Small 75x100