Home
>> 100 Of Our Favourite Travel Writers

<< Previous 10
Next 10 >>
11.
Arnie Wilson
http://www.arniewilson.com/index.html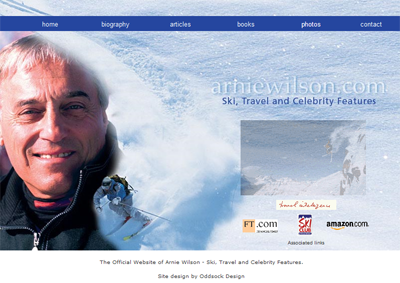 Highlights
As the most respected skiing journalist in the world, Arnie has written extensively as a ski correspondent for the Financial Times and skied every day for a year back in 1994, securing him a place in the record books. He also has a number of ski-related books to his name.
Why Should Arnie Become My New Favorite Writer?
To any ski enthusiast, Arnie's clinical dissection and expertise when it comes to ski resorts is to be respected and benefited from. His writing is usually accompanied by grade A mountain photography.
Top Picks:
We're look forward to the re-release of his book on the "Snow Crazy", in the meantime here's one from the vault.
12.
Stacey Wittig
http://www.vagabondinglulu.blogspot.com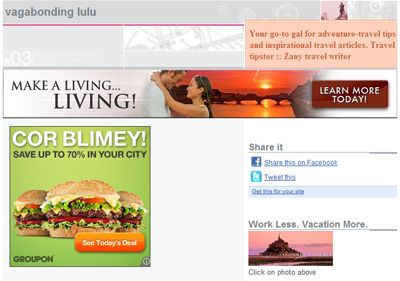 Highlights
Stacey is a freelance writer based in Arizona and alongside her many publishing credits holds a few awards for her excellent travel journalism (including the NATJA grand prize of last year).
Why Should Stacey Become My New Favorite Writer?
Her travel writing contains some great nuggets of inspiration and advice for your own trips, and we love it when she covers fine dining and odd foods (she has a knack for culinary description).
Top Picks:
Stacey's blog is frequently updated with writing from whichever corner of the Earth she finds herself in.
13.
Philip Game
http://www.travelgame.org/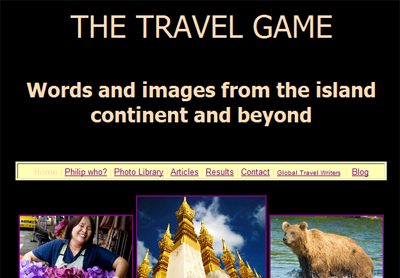 Highlights
Philip has a number of awards to his name, including winner of the Australian Society of Travel Writers (Bet International Story Under 1,000 Words) and the AGM award for Best Photograph from Bangkok. He's travelled to, and lived in, a vast number of countries and published in many top publications around the world.
Why Should Philip Become My New Favorite Writer?
Are you a fan of South East Asia or the Arabian Gulf? Well, so is Phillip, and the articles which chronicle his time there are a literary treat.
Top Picks:
Philip paints a picture of cultural Tibet in this short article.
14.
Mary Jo Manzanares
http://www.travelingwithmj.com/
Philip paints a picture of cultural Tibet in this short article.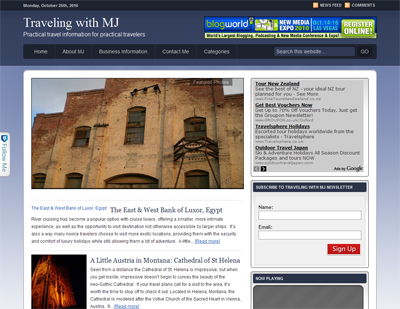 Highlights
MJ is in an ideal position to write about travel, since she's lucky enough to get paid to travel by proxy (she's a flight attendant, you see). Rather than let her fortune go to waste, MJ pens about her everything she encounters and is also the Travel Editor for PlanetEye Traveler.
Why Should MJ Become My New Favorite Writer?
MJ leaves no topic unexplored when writing about a location, and her culinary writing is always enjoyable. She also imparts great travel tips on a regular basis.
Top Picks:
A top example of MJ's travel advice.
15.
Bruce Holmes
http://bruceholmestravel.com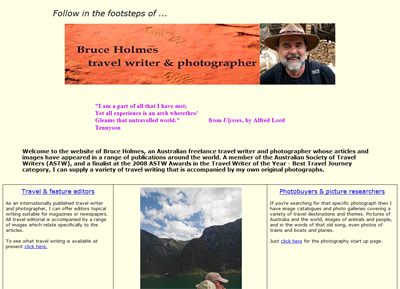 Highlights
A finalist for the 2008 Australian Society of Travel Writers award, Bruce Holmes is a seasoned traveler and an incredibly talented writer. While it has always been a calling, Bruce launched himself into his travel writing career fully after teaching English in Sydney. To date, his written and photographic work has appeared in many mainstream magazines and newspapers around the world.
Why Should Bruce Become My New Favorite Writer?
Quite simply, Bruce's articles betray the fact that he's probably one of the nicest travel writers currently active. He works with a great deal of positivity and heaps of character - you could recognize his work even if the credits were hidden.
Top Picks:
The article which had him tagged as a finalist in the ASTW awards.
16.
Dave
http://www.davestravelcorner.com/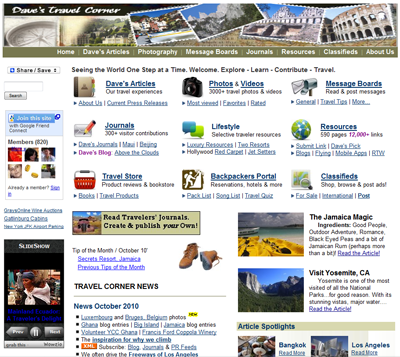 Highlights
Perhaps the best travel writer to only have one name. Dave's personal travels have taken him around the world where he indulges his passions for writing, photography and mountaineering. His current project involves tasting wine at every producer in the Napa Valley (which will take just shy of ten years in total). Dave is also the founder of the brilliant Dave's Travel Corner web resource.
Why Should Dave Become My New Favorite Writer?
His own writing is a master class in good travel journalism, but his greatest gift to us is the aforementioned Dave's Travel Corner. It's a site renowned for its excellence and something every travel junky should visit and, subsequently, become lost in.
Top Picks:
Dive in and see why it's one of the best travel sites out there.
17.
Fiona Harper
http://www.fionaharper.com.au/about.htm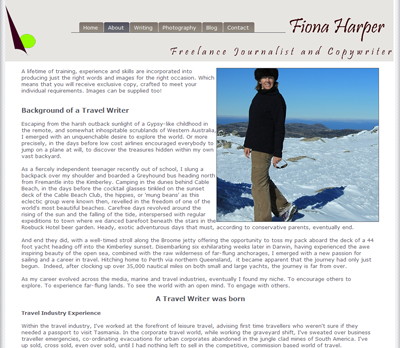 Highlights
Australian-born Fiona is an adventure travel writer who seeks out authentic travel experiences wherever they may be, usually arriving their by boat. She's roamed all over North America and Asia and is a member of the Australian Society of Travel Writers, with work appearing in many in-flight magazines and other publications.
Why Should Fiona Become My New Favorite Writer?
If not for any other reason, you'll enjoy Fiona for the romance she injects into everything she writes (especially when it comes to her boating-related works).
Top Picks:
Getting back to basics in her article "The Robinson Crusoe Effect".
18.
Candice Walsh
http://www.candicedoestheworld.com/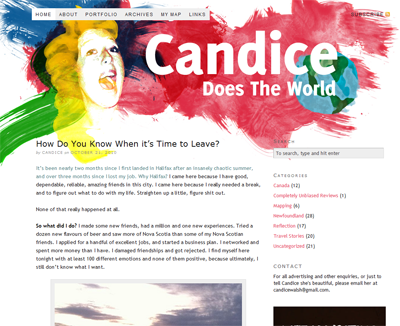 Highlights
Candice is a travel writer who comes from a background of copywriting but has only recently discovered her absolute love of travel, with her blog exploring her plans for future globe hopping. A Newfoundlandian, she is associate editor for the Matador Network, and has so far surveyed much of Europe and Mexico.
Why Should Candice Become My New Favorite Writer?
While her travel writing career is in its infancy, she clearly destined for great heights. Her blog is unreserved (to say the least), with political correctness always losing out to honest portrayals love, life and travel. A writer full of character and highly likable.
Top Picks:
We get the impression that Candice is on the verge of interesting times, and a lot of decision making.
19.
Roy Heale
http://royheale.blogspot.com/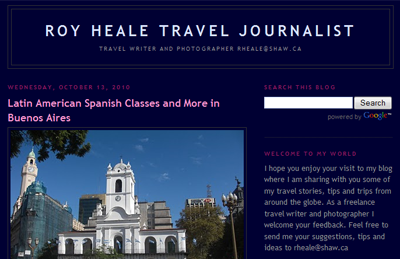 Highlights
Over his lifetime Roy has made his way from England to Canada, then down to Buenos Aires. His years as a marketing and PR professional saw him travelling extensively, and this has carried over into his work as a freelance travel writer and photographer during his semi-retirement. He is also associated with a number of travel associations.
Why Should Roy Become My New Favorite Writer?
As a member of the International Gay & Lesbian Travel Association, Roy's blog is a fantastic resource for the discerning gay traveler, particularly for anyone seeking great nightlife in Buenos Aires and wider Latin America.
Top Picks:
A very well-penned reflection on Argentina's legalization of same-sex marriages.
20.
Karen Kefauver
http://www.karenkefauver.com/index.html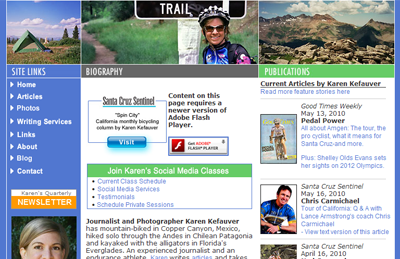 Highlights
Karen has published over five hundred features around the world, so her experience as a travel journalist is second to none. Here, love for adventure travel fuels most of her writing, and when she isn't practicing endurance athletics outdoors you'll find her relaxing in a luxury spa.
Why Should Karen Become My New Favorite Writer?
Karen is an adventure traveler through and through. It is always a pleasure to experience her hardcore sporting activities (or high class living) vicariously through her words, as she has a gift for describing situations most of us will never find ourselves in.
Top Picks:
First time skydiving stories are ten-a-penny, but Karen's is the cream of the crop.
<< Previous 10
Next 10 >>
Find us on Google+