Home
>> 100 Of Our Favourite Travel Writers

<< Previous 10
Next 10 >>
41.
Donna Dailey
http://www.donnadailey.com/index.html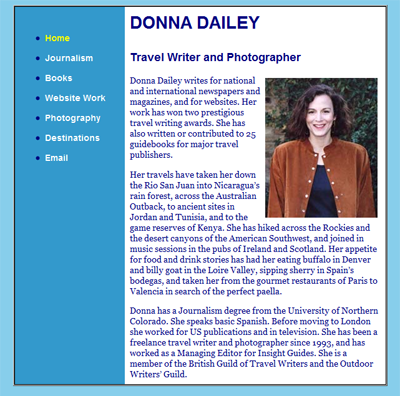 Highlights
Throughout her career, Donna Dailey has shown herself to be a fine writer and this has been acknowledged with a number of awards along the way. She has been awarded the runner-up Travel Writer of the Year by the British Guild of Travel Writers in 2007 among others in previous years. Her work has featured in huge newspapers and magazines such as the Daily Mail and the Global Adventure magazine. Naturally, she is incredibly well-travelled and if you can name a place, the chances are that she has probably been there, documented it and then gone on to gain serious recognition for it.
Why Should Donna Become My New Favorite Writer?
Donna goes further than to describe a destination; she paints images of it with words. It's no small wonder why she has been given recognition in the travel writing community.
Top Picks:
Donna is fascinated with obtaining the perfect paella at any cost.
42.
Greg Breining
http://www.gregbreining.com/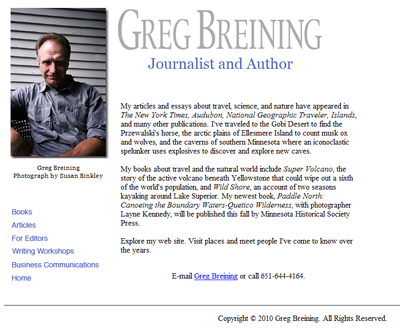 Highlights
Greg Breining is a reputable and respected travel writer with a strong bibliography testament to his unwavering writing capabilities. His books have included a number of highly recommended kayaking titles and a well-written discourse on the super volcano sitting below Yellowstone Park.
Why Should Greg Become My New Favorite Writer?
Greg reveals to us unobtrusively that he is a writer of solid intuition and intellect. He writes in a manner that betrays an amazing wealth of knowledge combined effortlessly with his natural style, with any of his work concerning the natural world lingering with the reader long after they have closed the book.
Top Picks:
A brilliant outdoors writer, we'd recommend starting with this NY Times article on dog sledding.
43.
David Nicholson
http://www.davidnicholson.com/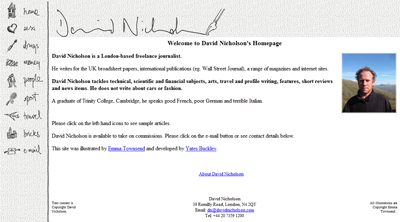 Highlights
The London-based David Nicholson has a heady array of articles in his bibliography which have seen publication in a near-countless amount of magazines and newspapers, including Exotica, The Guardian, The Sunday Times magazine, Lexus magazine and many, many more.
Why Should David Become My New Favorite Writer?
David has something for everyone. He writes about pretty much everything (aside from cars and fashion). Sex, drugs, money, people, sports... David has the works. He is one of the few writers where you could throw him into any situation and he would always come back with a solid gold feature article.
Top Picks:
A massive archive of David's work is available for everyone to read on his website.
44.
Iain Aitch
http://www.iainaitch.com/index.htm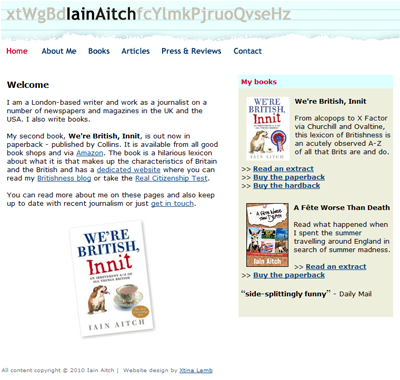 Highlights
Iain is the epitome of a British writer and is the author of the recent, massively successful book "We're British, Innit". He has articles regularly appear in The Daily Telegraph, The Observer, Financial Times and often appears on television as a self-styled expert on British culture.
Why Should Iain Become My New Favorite Writer?
Put simply, Iain nails the kind of tricky comedy where the reader can completely grasp the concepts discussed because they are applicable to the whole audience. A true comic genius and surveyor of all things British.
Top Picks:
An excerpt that embodies the style of his most recent book can be found here.
45.
Doug Mack
http://www.douglasmack.net/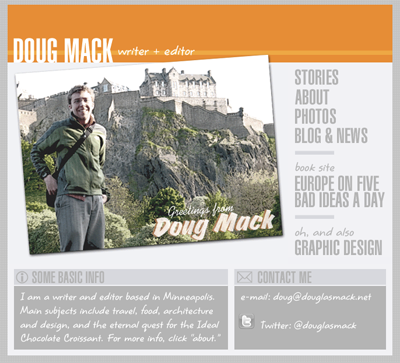 Highlights
Doug's colorful articles have appeared in a variety of places and cover an equally large variety of subjects. American Lifestyle, The Star Tribune, The San Francisco Chronicle and World Hum are all recommended hot spots to find some of Doug's intuitive features. He is in the process of writing what we can expect to be an amusing account of his time spent in Europe using a forty five year old guide to the continent.
Why Should Doug Become My New Favorite Writer?
Doug tells it how he sees it and has an uncanny way of making unusual events, places and people sound more dynamic than the printed page does justice. His philosophical perspective adds a perfect counterbalance to his quirky subjects, leaving the reader astounded but not necessarily overwhelmed.
Top Picks:
An excellent excerpt from his current project can be found here:
46.
Jacqui Currie
http://www.jacquicurrie.com/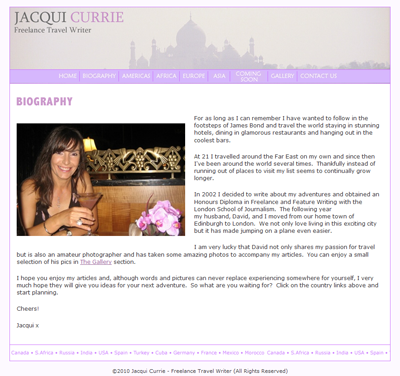 Highlights
Jacqui runs a remarkably well-presented website along with some overwhelmingly beautiful photography, a lot of it taken by her equally talented husband, David. She has voyaged to just about every country you could care to name, and despite her young age is one of the most experienced freelance travel writers currently active.
Why Should Jacqui Become My New Favorite Writer?
Whilst incredibly successful to date, we feel she hasn't had the level recognition she deserves. She is definitely one to watch as she is constantly attempting new experiences and visiting new locations, then subsequently writing about it in her own unique style.
Top Picks:
With a wide variety of locations and activities to choose from, we'd suggest starting with this piece on Muscat.
47.
Janie Robinson
http://janierobinsontraveljournalist.blogspot.com/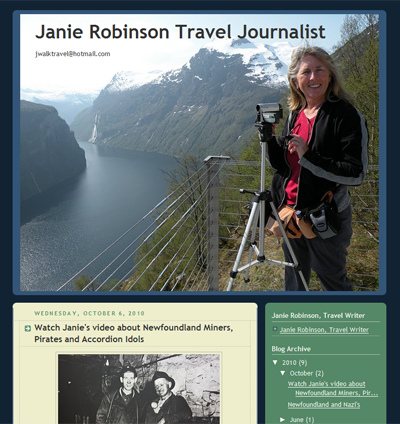 Highlights
Janie Robinson is something of a multi-talented travel journalist, being accomplished in not just writing but having experience in television and producing for CHUM TV. In addition, she has created several travel features for www.thestar.com and has been a columnist for Simcoe Life magazine. Adaptable is the optimum word to describe Janie's experiences so far.
Why Should Janie Become My New Favorite Writer?
Janie is a reliable writer and packs a solid punch with her descriptive narratives combined with a delicate weaving of knowledge. She also delves quite deeply into providing the reader with helpful tips when travelling and is as much an author as she is the friend of the reader.
Top Picks:
A pleasing article on some extravagant places to holiday.
48.
Carole French
http://www.carolefrench.com/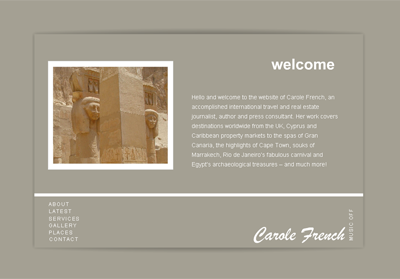 Highlights
A well established writer, Carole French has a vast range of globally renowned clients such as National Geographic, British Airways, Expedia, Thompson, Ryanair and ABTA magazine. This is just a fraction of her client database which contains many more gigantic names and with good reason - she's a BBC trained journalist and has been writing for magazines since the 1980s.
Why Should Carole Become My New Favorite Writer?
On top of having a reputation of being one of the world's best travel journalists, she writes to a flawless standard that never ceases to flabbergast her followers. Carole's work is nothing short of exemplary no matter what subject she is asked to cover.
Top Picks:
An incredibly well-researched article on world property.
49.
Alice Griffin
http://www.alicegriffin.co.uk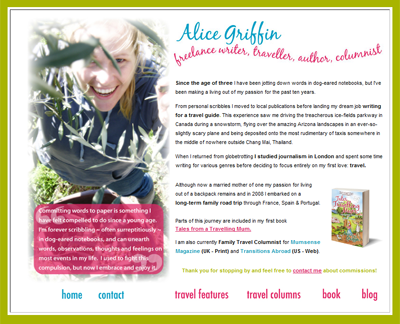 Highlights
Having an interest in writing since a very early age, Alice has since turned her childhood fascination into a stable job for the past ten years. She has had articles printed in Spain Magazine, Baby World and Dogs Today and even incorporates her family life into her work by planning road trips as holidays such as the one she embarked on in 2008 that had taken her through France, Spain and Portugal.
Why Should Alice Become My New Favorite Writer?
Alice writes from the heart and finds a good audience in the large demographic of family travelers. She understands that travelling with family makes for the best trips and offers great articles related to this. Her book, titled "Tales from a Travelling Mum", teaches many lessons on what it is that makes family travel challenging yet an unforgettable experience.
Top Picks:
One of Alice's articles written for Mumsense.
50.
Jason Hussong
http://www.jasons-travels.com/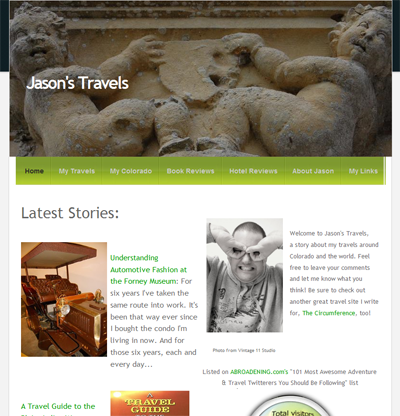 Highlights
Jason is still in the early stages of his career in travel writing, however he shows incomparable potential to become a wonderful writer. His website is a collection of professional articles along with a show of his experience as a journalist in television news, no doubt a sign of great things to come in the world of travel
Why Should Jason Become My New Favorite Writer?
Jason is sincere and intimate, with his articles displaying a wealth of personality and warmth and is uncommonly enthusiastic about engaging with his fan base. Jason really is a true example of what it is to document new experiences and places, then sharing with the world.
Top Picks:
A terrific nature piece accompanied by a lucky photo snap.
<< Previous 10
Next 10 >>
Find us on Google+