Iraqi Maqam

iraqimaqam.blogspot.com/

A blog of massive cultural importance detailing and preserving the art of the Iraqi Maqam. The amount of dedication and work which clearly goes into the site is award worthy in itself.

Shroogy Pride

shroogy.blogspot.com/

Muntadhar al-Zaidi rose to global infamy following the shoe-throwing incident during a press conference with then-US president George W. Bush. His actions were generally applauded, and sparked an unprecedented level of discussion on freedom of expression - this blog is the most comprehensive collection of press coverage on the web.

Violet for Peace

violet-iraq.blogspot.com/

A deep and refreshing series of reflective posts by Violet, a medical student living and learning in Iraq.

Baghdad's Kassakhoon

baghdadkassakhoon.blogspot.com/

News commentary in which the author asks all the right questions, no matter how uncomfortable those questions are. Well-measured and concisely written - a master class in political and news blogging.

Inside Iraq

washingtonbureau.typepad.com/iraq/

Written by a number of journalists inside Baghdad and in the greater area, this mix of personal accounts from the thick of it portrays a powerful picture.

Streamtime.org

streamtime.org/

A network of media experts and activists contribute to Streamline, a long-term project born out of passion with the aim of breaking down barriers of communication.

Baghdad Dentist

baghdadentist.blogspot.com/

The strength of the Baghdad Dentist's blog is its striking honesty and visual narrative of the country's healing process. If ever there was an authentic depiction of life in Iraq as written by one of its citizens, this is it.

The Iraqi Future

theiraqifuture.blogspot.com/

Political discourse and commentary on The Iraqi Future is regularly delivered and consistently high in quality. It also represents a great cross section of the Iraqi population.

An Arab Woman Blues

www.arabwomanblues.blogspot.com/

Representing the female voice in the Middle East, Layla is a blogger who tells it like it is regardless of who it offends. We need more bloggers like this.

Iraq: The Lasting Love

www.iraqthelastinglove.blogspot.com/

Had enough negativity? This blog will restore your faith in the great, albeit troubled, nation by highlighting the rich cultural heritage of Iraq.
Get your badge here
Choose one of these badges to show on your website by copying the code below into the html for your site, including a link back to this page...
Large 185x110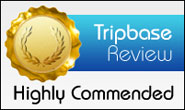 Small 75x100