Don't Call Me Gringa

emilyinchile.blogspot.com/

Get a sense of living in Chile in all its glory, both the ups and downs, with Emily's blog, a Californian who found herself in Chile in 2007. Superb writing and plenty of humor.

Andre in Chile

andreinchile.com/

A fine expat journal in which Andre isn't afraid to tell it like it is. What's more, although he warns against expecting regular updates his highly readable content actually comes with some frequency.

Corrugated City

www.corrugatedcity.com/

If you're looking for an authentic set of first-hand stories on living in Chile, you'll find all manner of highlights at corrugated city written by a long-term expat and traveler. Matt now focuses on real estate in the country but the archive is extensive and well worth reading.

Eat Wine

eatwineblog.com/

A life-long enthusiast of all things Latin America, Liz eventually found her way to Chile where she remained to explore her flair for cooking and wine in a professional capacity. Who better to teach us about one of Chile's most delectable exports?

Chabelita in Chile

chabelitainchile.blogspot.com/

Quirky tales and opinions on Chile and life in general are shared here by Isabel, a writer with bags of personality and a knack for drawing the reader in.

Sara's Titleless Blog

sarabeck.wordpress.com/

Never afraid to write with openness and honesty, Sara documents her expatriate travels in Chile as well as her recovery from an operation to remove a brain tumor. We wish her the best and hope she keeps up regular posting, which has no doubt been helpful to countless travelers coming to Chile for the first time.

La Chilengiita

lachilenguita.blogspot.com/

As a bilingual Chilean resident originally from Colorado, Tyffanie's blog writing is a source of inspiration not only to residents and travelers in Chile but to anyone interested in food and healthy living. Highly recommended.

Abby's Line

abbyline.blogspot.com/

A snappy, varied personal blog updated by an English teacher who loved her student days in Chile so much that she returned permanently. Not only a driven individual but a great writer to boot.

Annje Unabashed

annjeunabashed.blogspot.com/

Annje's candid writing is an absolute treat. Keep up with her chronicles and musings as she prepares to move to Chile, the home country of her husband (who often gets the raw end of the deal in her blog posts!).

Canchando Chile

www.cachandochile.com

An invaluable resource for tourists or people thinking of relocating to Chile. If there's a better discourse on the culture of the country, we're sorry to report that we didn't find it.
Get your badge here
Choose one of these badges to show on your website by copying the code below into the html for your site, including a link back to this page...
Large 185x110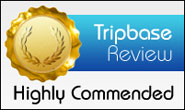 Small 75x100