Ghana Guide and Blog

gisforghana.blogspot.com

The site covers just about every angle one would consider before travelling to Ghana with the intention of working or volunteering there. All in all, a great resource for travellers.

Holli's Ramblings

www.hollisramblings.blogspot.com

Intellectual but never overbearing, Holli's regular discourses on Ghanaian life and culture are always fresh and engaging.

Circumspect

www.circumspecte.com

Visiting Circumspect for the first time is akin to opening a treasure chest of thought-provoking content. An excellent social platform for anyone interested in Ghana and African development at large.

I Heart Accra

iheartaccra.blogspot.com

It's rare to see a blog as passionate and uplifting as I Heart Accra, and as such it would be next to criminal not to have included it on a list of best Ghanaian blogs currently active.

Ato Kwamena Dadzie

www.atokd.com

Humorous, reverent and intellectually cutting, Ato's site represents Ghana through a wealth of different media to great effect. Terrific work.

Waters Edge Ministries

weministry.blogspot.com

Ghana is explored here via a number of first-hand experiences which are always well-written and engaging. What's more, they all originate from great people performing life-changing work.

Ghana Celebrities

www.ghanacelebrities.com

You may be surprised to discover how much of a powerhouse Ghana is when it comes to the entertainment industry - navigate the dizzying celebrity circles with this superior team-run site.

Life and Living It

lifenlivingit.blogspot.com

The writing of four different Ghanaian British women and their everyday lives is a reliable way of getting a first-hand view of Ghana. Highly recommended reading.

Accra Daily Photo

accradailyphoto.blogspot.com

Ghana makes for a stunning stage for photography, and this fine collection presented complete with a fascinating blog will have you checking back on a daily basis.
Get your badge here
Choose one of these badges to show on your website by copying the code below into the html for your site, including a link back to this page...
Large 185x110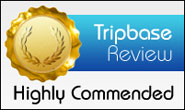 Small 75x100