Home
>> 100 Of Our Favourite Travel Writers

<< Previous 10
Next 10 >>
21.
Lucy Izon
http://www.canadacool.com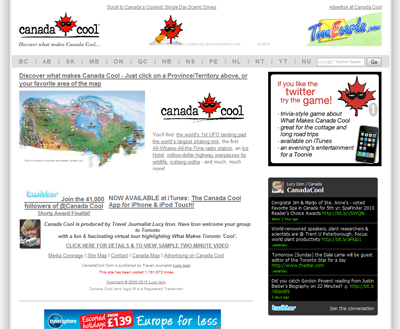 Highlights
Lucy is a Toronto-based writer and owner of the most popular Twitter page about Canada (@CanadaCool) and runs the successful website of the same name. She has also won award for her travel journalism and worked with the Government back in 2000 to engage young people in writing and exploring Canada.
Why Should Lucy Become My New Favorite Writer?
Canada is an extraordinary place and one which has inspired many a patriot. Lucy's deep reverence for her home country shines through everything she does and this passion is evoked in her large readership wherever they happen to be.
Top Picks:
A very interesting video feature on "the world's smallest desert".
22.
Matthieu Aikins
http://www.maikins.com/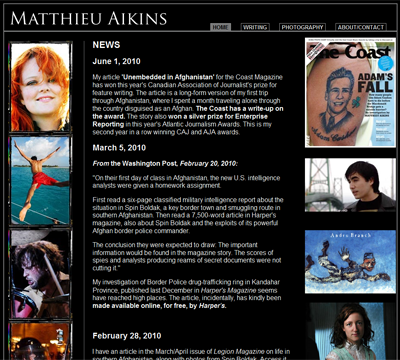 Highlights
Matthieu's prize-winning writing and photography have appeared in publications on both sides of the Atlantic. His fellowship at New York University has taken him to Kabul where he is doing an MA in Near Eastern Studies.
Why Should Matthieu Become My New Favorite Writer?
His Asian reportage is gutsy and engaging, with his journalistic approach so persuasive that it has caused people to sit up, listen, and take action to make the world just that little bit better (see the below example).
Top Picks:
Matthieu's multiple award-winning 2008 feature, "Adam's Fall".
23.
Nick Haslam
http://www.nickhaslam.co.uk/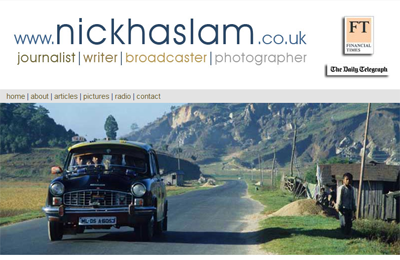 Highlights
There are very few periods in Nick's life where he hasn't been travelling, and in the downtime he has taught and written extensively on his adventures. His posts have seen him take up residence in some of the most remote corners of the globe (including a journalism stint in Burkina Faso), all back when the world seemed like a much larger place than it does today.
Why Should Nick Become My New Favorite Writer?
Nick brings an old-school aesthetic to his writing (especially his more exploratory pieces) which is arguably a rare thing to come across nowadays. With over 70 countries in his personal travel history and expertly written material from just about all of them, Nick's work offers something for everyone.
Top Picks:
Nick's Articles are deeply engaging. We'd recommend starting with "The Rettir - Iceland's Annual Round Up".
24.
Stacia Friedman
http://www.staciafriedman.com/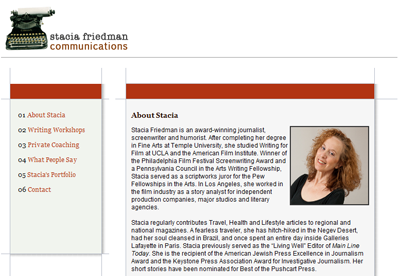 Highlights
Stacia's impressive screenwriting portfolio is matched only by her experience as a fearless traveler and feature writer. She has earned herself a slew of awards over the years and is not only revered by her readers but also her students, having taught at Temple University, Rosemont College and many other prestigious institutions.
Why Should Stacia Become My New Favorite Writer?
Whether she's writing about luxury eco-resorts in Brazil or sampling culinary delicacies in Paris, Stacia's writing style is so unique as to be instantly recognizable. Her flair with adjectives is put to such good use as to be never overbearing - just perfect scene setting which completely draws the reader in.
Top Picks:
Something to make the mouth water.
25.
Laura Dixon
http://www.laurajaynedixon.co.uk/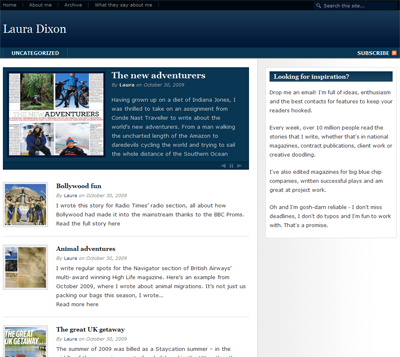 Highlights
Despite her young age, Laura has already filled her bibliography with some impressive bylines, including many large UK titles such as the Radio Times and national newspapers. She has also worked with in-flight magazines and other dedicated travel publications, and regularly contributes to i-escape.com.
Why Should Laura Become My New Favorite Writer?
Stacia is incredibly well-travelled and always displays this wealth of experience in her writing. More often than not she will find a unique angle to a location or subject and run with it, producing incredibly readable results.
Top Picks:
An example of Laura's original writing, which is so good we forgive the awful pun in the title.
26.
Cherrye Moore
http://my-bellavita.com/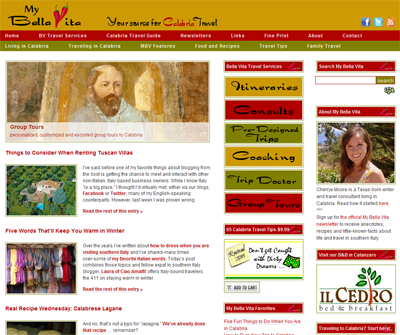 Highlights
Cherrye originally hails from Texas moved to Italy (via Paris) where she works as a freelance writer and with her husband in travel consultancy and hospitality. Her expertise lies exclusively with southern Italy's culture and helping others get the most out of their time travelling there. Cherrye runs the My Bella Vita site and has written articles for the BootsnAll networks and the Italian Notebook.
Why Should Cherrye Become My New Favorite Writer?
If you're interested in travelling in Italy, Cherrye Moore should be your first port of call. Her not only infuses her passion for the country but also serves as a great guide to anyone who is planning on visiting this cultural Mecca.
Top Picks:
This and many other great advice articles can be found over on My Bella Vita.
27.
Alexis Grant
http://alexisgrant.com/meet-alexis/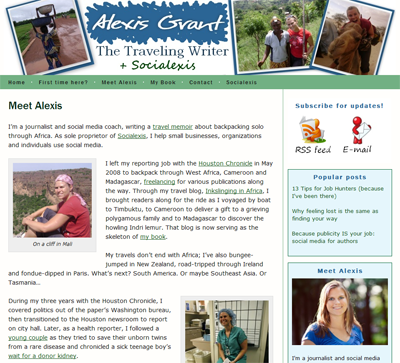 Highlights
Alexis is a social media guru and, at the time of writing, is compiling a hardcore travel memoir as she backpacks solo throughout Africa. Prior to this she has travelled in Europe and Australasia, and as an experienced journalist has penned words for a number of prestigious papers in the U.S.
Why Should Alexis Become My New Favorite Writer?
Alexis' decision to give up her job and fearlessly trek through French-speaking Africa is an inspiration and certainly the kind of thing which generates fantastic travel stories. Although she's now back in full-time work, it doesn't stop her offering indispensable advice to fellow and aspiring writers (especially those who harbor wanderlust).
Top Picks:
By far the best place to start - a great collection of articles on a number of related topics.
28.
Chris Gray Faust
http://caroundtheworld.com/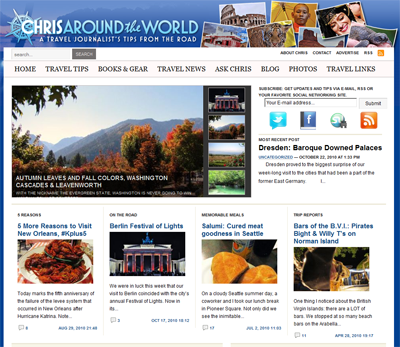 Highlights
The former travel editor of USA TODAY, Chris is an award-winning travel journalist with over two decades of experience behind her. Her specialties are travel, cuisine and social media (she has accounts on just about every site you can think of) but there are very few things which she hasn't covered in the past.
Why Should Chris Become My New Favorite Writer?
As a travel journalist with near-unparalleled experience, her tips and advice are always invaluable. Her site is a giant, comprehensive travel guide which will appeal to anyone setting out on an interesting journey or looking to improve their writing knowledge.
Top Picks:
Chris brings up an interesting issue on Israel passport control.
29.
Charyn Pfeuffer
http://globalcitizenproject.blogspot.com/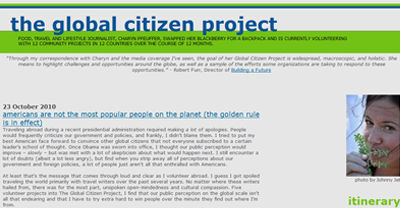 Highlights
Twelve community projects, twelve countries and twelve months... this is the mission of Charyn Pfeuffer, a travel journalist and author who has packed everything she owns into a backpack and set out to make the world a better place by volunteering abroad.
Why Should Charyn Become My New Favorite Writer?
The blog documenting Charyn's Global Citizen Project is an extraordinary exercise in social commentary, travel journalism and consciousness-raising all at the same time. Highly recommended reading for those who seek to expand their own horizons.
Top Picks:
Read, support and donate.
30.
Joe Cawley
http://www.joecawley.co.uk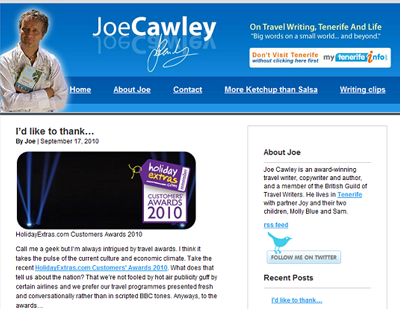 Highlights
Joe is a family man living in Tenerife, originally from the UK and a member of the British Guild of Travel Writers. To date he has experienced (and written about) the highs and lows of travelling to the Arctic Circle, tackling the Nicaraguan jungle and tracking large predators in Transylvania. His book, More Ketchup than Salsa, has attracted widespread praise since its publication.
Why Should Joe Become My New Favorite Writer?
Joe is a British expatriate, and coupled with his experience as a travel writer his writing is always highly enjoyable appraisal of the world around him with a uniquely humorous (and often cynical) twist.
Top Picks:
A good example of Joe's blend of comedy and solid travel writing.
<< Previous 10
Next 10 >>
Find us on Google+