Home
>> 100 Of Our Favourite Travel Writers

<< Previous 10
Next 10 >>
31.
Amanda Castleman
http://www.amandacastleman.com/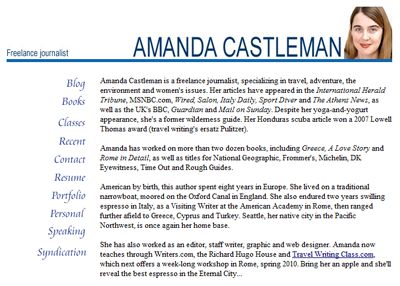 Highlights
Having lived in many European countries over the years, Amanda has built up a string of impressive publication credits to her name so far, from books to articles featuring in Wired, Sport Diver, MSNBC and mainstream UK titles. She also picked up a Lowell Thomas award in recognition of her writing prowess in 2007.
Why Should Amanda Become My New Favorite Writer?
Because they don't hand out awards such as the Lowell Thomas for no reason.
Top Picks:
Amanda isn't afraid to write what she feels in this Oxford-based article.
32.
Julia Ross
http://www.juliaross.info/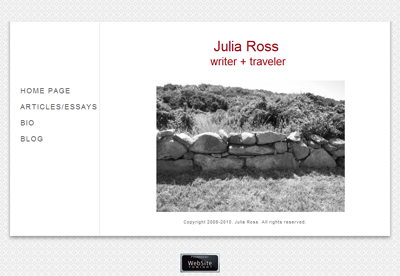 Highlights
While Julia has always worked in travel in some form or another, her love affair with the Far East blossomed way back in 2002 when she taught English in Shanghai. Many of her articles explore the intricacies of Chinese culture, with her work appearing in the Washing Post, Time, USA Today, World Hum and many more. In addition, she can count two degrees in her long record of academic study.
Why Should Julia Become My New Favorite Writer?
Her extensive experience in travel journalism (and globetrotting in general) coupled with her knack for observational writing results in consistently great material. A must read for any fan of the Far East.
Top Picks:
Julia has a wide array of samples on her site, and here's one that explores some intriguing subject matter.
33.
Michael Yessis
http://michaelyessis.net/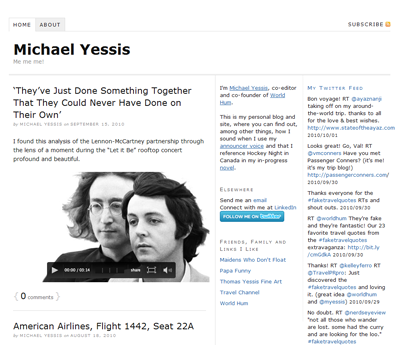 Highlights
If you haven't heard of travel guru Michael Yessis, you will have heard of what he helped create - Travel Channel Media's World Hum. Michael launched the site nearly a decade ago and it has grown to become one of the greatest resources for the modern traveler.
Why Should Michael Become My New Favorite Writer?
Other than his outstanding contributions to the industry, Michael's own blogging on the World Hum site takes the form of punchy journalism highlighting key issues from around the world.
Top Picks:
Again, he co-founded World Hum. What more do you need?
34.
Robin McKelvie
http://www.robinmckelvie.com/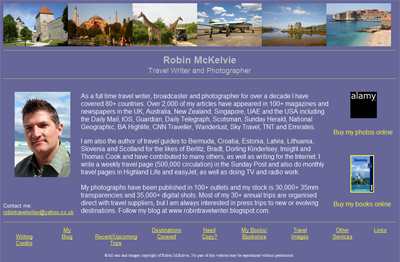 Highlights
Every travel addict has their own 'bucket list', i.e. a set of goals to complete before they die. If you were to present your own to Robin, he'd probably be able to tick off the vast majority of them. His continued work as a travel writer and photographer has taken him around the world (literally, having once circumnavigated he globe in a single trip).
Why Should Robin Become My New Favorite Writer?
Well, there's no shortage of material to choose from since he's written on just about every travel subject for every mainstream UK publication going, and plenty of international titles too. In particular he has a knack for city writing, as you'll see from the top pick below.
Top Picks:
A fantastic article on a fantastic city.
35.
Sarah Monaghan
http://www.sarahmonaghan.co.uk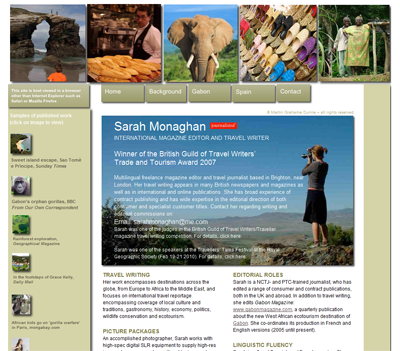 Highlights
Sarah has had a tremendously successful career as both a travel writer and editor, having headed Everything Spain for a two year stint and holding editing positions at leading magazines in the United Arab Emirates and Dubai. Currently, she edits the widely-published Gabon Magazine and regularly contributes to many others.
Why Should Sarah Become My New Favorite Writer?
Sarah certainly throws herself into challenging situations with great enthusiasm, as evidenced by her journalistic reportage from Gabon.
Top Picks:
One of our favorite heart-warming and educational pieces.
36.
Michelle Balmer
http://michellebalmer.com/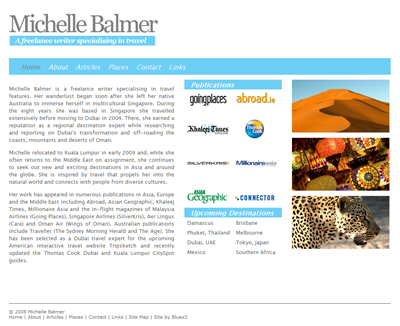 Highlights
Michelle's career comes from good stock, having studied under Amanda Castleman, another travel writer in our top 100. Michelle currently resides in Kuala Lumpur with her husband and has penned features on Australasian and Middle Eastern topics for a number of top travel companies and publications.
Why Should Michelle Become My New Favorite Writer?
Michelle's unassuming style and adventurous spirit has lead to her writing some first class pieces over the years. Her features are always highly readable and unique in style.
Top Picks:
Delve into this top-notch safari article covering both Botswana and Zambia.
37.
Alison Stein Wellner
http://verycuriousmind.wordpress.com/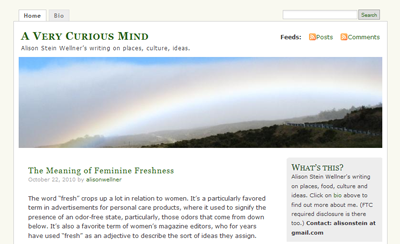 Highlights
Alison has an extensive portfolio including huge titles such as New York Magazine, a frequent writer for About.com, a blogger for the massive AOL's Luxist section and has even had a publication in the Best Women's Travel Writing 2010 anthology - this is just to name a few of Alison's commendable achievements in her career so far.
Why Should Alison Become My New Favorite Writer?
Worldly and well-versed in the art of engaging the reader, Alison is somewhat gritty and down to earth which makes her all that much more likeable. Unlike many writers today, we can relate to her via her snappy prose and live vicariously through her as a result.
Top Picks:
A shining example of her style and prowess is displayed in 'The Heat Seeker', a brave account of extreme cuisine.
38.
Emma Levine
http://www.emma-levine.com/emma-levine/default.asp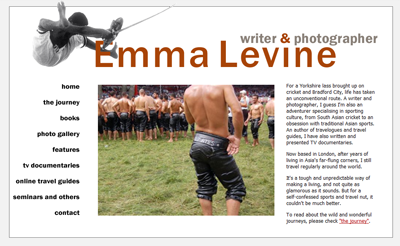 Highlights
Emma Levine is an enlightening and consistently good writer, having written huge sections for British Airways country and city guides to a standard that raises the bar for everyone else. Being a sports enthusiast, she is also the author of four books, including Cricket - A Kind of Pilgrimage, all of which are certain to please fans with an interest in foreign sporting events.
Why Should Emma Become My New Favorite Writer?
Emma is as practiced as writers get, and her passion for the craft is self-evident. What's more, she always manages to dissect her subject matter with the care and attention necessary to explore it fully.
Top Picks:
Thought-provoking article on Pakistan and gender equality.
39.
Erik Fearn
http://www.erikfearn.com/index.html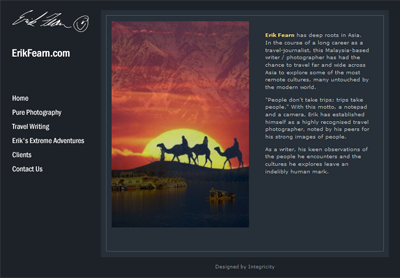 Highlights
Erik is a revered writer, not least because his work is consistently excellent and published on a very frequent basis. He is a freelance journalist whose focus usually lies with the many untouched and unspoiled places within Asia. He is also never one to shy away from adventure, having undertaken some hair-raising experiences (including ironboarding, of all things).
Why Should Erik Become My New Favorite Writer?
Erik has an inexhaustible supply of great stories and is able to share them in a side-splittingly funny manner, but at the same time is well balanced and always strikes the tone right. The marvel with Erik is that he chooses his authorial voice very well depending on the topic being discussed and picks his opportunities perfectly to entertain or shock his audience...
Top Picks:
... and this is an example of Erik at his most entertaining.
40.
Chris Alden
http://www.chrisalden.net/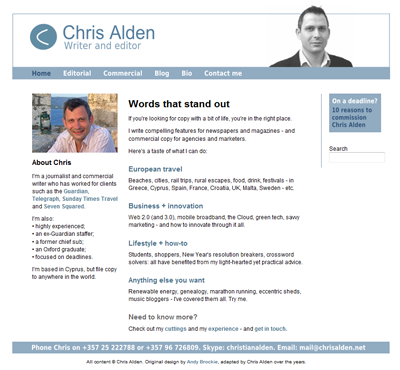 Highlights
Chris Alden is an insightful writer and has had the privilege of writing for a number of large newspapers and their websites, notably The Guardian and Sunday Times Travel. While employed as a web guide editor, he has even gone so far as to create the first blog for a major newspaper in the UK, The Guardian Unlimited. Chris recently relocated to Cyprus and has since been focusing on Mediterranean travel, technology, business and environmental issues with staggering success.
Why Should Chris Become My New Favorite Writer?
To sum up Chris' style, he is well travelled and honest with a generous sprinkling of humor thrown into the mix. Chris is a storyteller as well as a travel writer and his work is sincerely a pleasure to read. Every subject he touches upon is well researched and he never fails to put his own stamp on it.
Top Picks:
Don't hesitate to check out Chris' immensely readable blog.
<< Previous 10
Next 10 >>
Find us on Google+