Home
>> 100 Of Our Favourite Travel Writers

<< Previous 10
First 10 >>
91.
Mark Frary
http://markfrary.com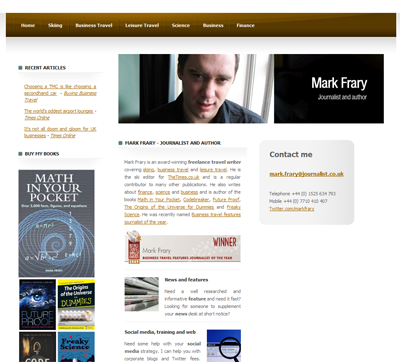 Highlights
With a specialist focus on family, luxury and budget travel, Mark delivers consistently well researched features and shows no signs of slowing down any time soon. Career-wise, he writes regularly for the Times Online Travel site and is the ski editor for the The Times. As well as his great work in the travel field, his journalism also extends into science and business writing (the latter of which has earned him an award).
Why Should Mark Become My New Favorite Writer?
There is something for everyone as Mark's articles range from the incredibly helpful to the downright quirky. His experience as a journalist accounts for the fact that all his work is meticulous in its detail and written without a word out of place.
Top Picks:
Mark writes on the ultimate travel high.
92.
Kara Williams
http://karaswilliams.com/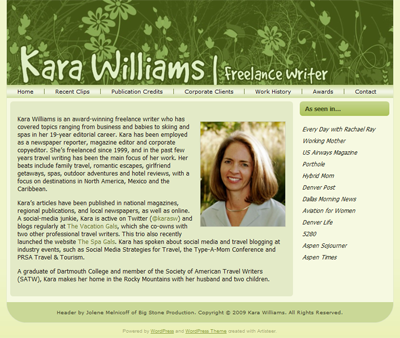 Highlights
In nearly two decades as an editor and writer, Kara has written some exceptional articles on a wide variety of topics. The majority of her work relates to family travel and luxury breaks, in both of which she has a wealth of experience. Alongside her long publication history she is the recipient of more than a couple awards recognizing her successes to date.
Why Should Kara Become My New Favorite Writer?
If you've got kids, there is no excuse why Kara should not be in your bookmarks list. There is much knowledge to be gained from her varied features as she often dispenses expert tips on getting the most out of any travel experience.
Top Picks:
Kara's comprehensive guide to a subject with mass appeal.
93.
Donald Strachan
http://www.donaldstrachan.com
Highlights
Donald is a UK-based travel journalist whose work has appeared in nearly all of his home country's main newspapers and travel magazines. He has also seen his features publish in widely-read international titles as well as sites such as Frommers.com and TravelEden.com. His country of expertise is Italy, and has the unique selling point in that he's a travel writer who chooses not to fly anywhere.
Why Should Donald Become My New Favorite Writer?
Fiercely intelligent, Donald applies his razor-sharp wit to whatever subject falls under his crossfire. Whether it's a guide book, an opinion post on his blog, or anything in between, his work is consistently high quality and well-thought out.
Top Picks:
An example of Donald's finely executed study of location.
94.
Robyn Holland
http://www.robynholland.com.au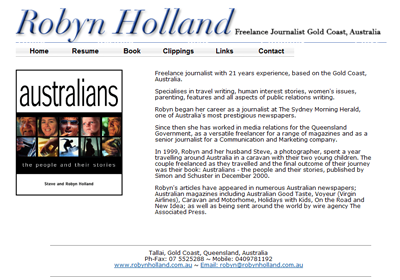 Highlights
Based on Australia's Gold Coast, Robyn has been writing for over two decades. Her career took off to a good start at The Sydney Morning Herald and she hasn't lost momentum since, going on to have her work published in newspapers and magazines both in Australia and round the world.
Why Should Robyn Become My New Favorite Writer?
Alongside her articles, Robyn has also released a book along with her husband (Australians - The People and Their Stories, 2000) in which they travelled around their home company for a year in a caravan. It is sadly no longer in print, but you can get a flavor of it via the samples below.
Top Picks:
Excellent snapshots of Australia, with photography courtesy of husband Steve.
95.
Maxine Rose Schur
http://www.maxineroseschur.com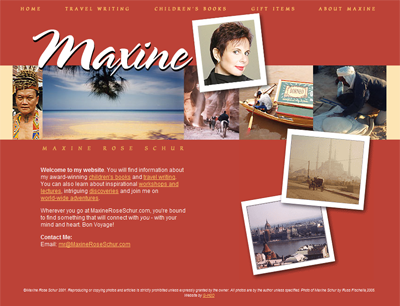 Highlights
Maxine is an incredibly accomplished travel writer and this has not gone unnoticed by the industry, having been awarded two Lowell Thomas awards and her autobiographical Places in Time named as the Best Travel Book of the Year in 2006 (by the North American Travel Journalists Association). As well as her outstanding successes in travel, she has authored ten children's books so far.
Why Should Maxine Become My New Favorite Writer?
Her travel essays have put her at the top of her game, but her 2006 memoir Places in Time truly is as good as the critics say. We recommend you put down whatever you're currently reading and pick up a copy.
Top Picks:
Not convinced? Check out this powerful essay on her time in Paris.
96.
Terry Ward
http://www.terry-ward.com/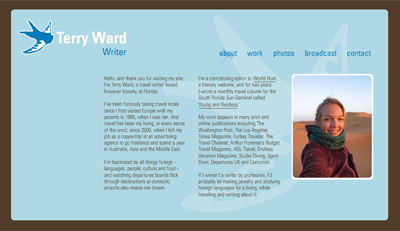 Highlights
Terry has seen her words on the pages of such esteemed publications as The Washington Post, The Los Angeles Times Magazine, Forbes Traveler and countless more. She also serves as a contributing editor to World Hum and has worked as a columnist for a Floridian site. You wouldn't think it to look at her fresh face and youthful looks, but she is a hardcore travel junky who has roamed all over Australia, Asia and the Middle East.
Why Should Terry Become My New Favorite Writer?
Humor is a tool Terry uses to great effect in anything she puts her pen to. Her colorful tales of exploring other cultures would not be amiss told over a few beers in a bar, and we're yet to see an article of hers which doesn't completely suck the reader in.
Top Picks:
An excellent article on her Christmas in Hamburg.
97.
Stu Lloyd
http://www.stulloyd.com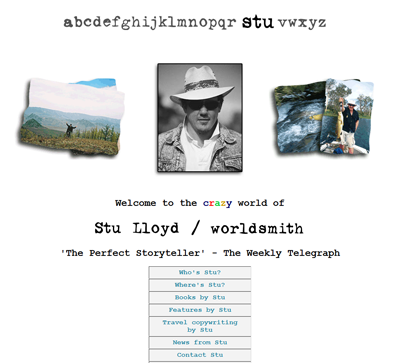 Highlights
Zimbabwe born-and-raised, Stu has lived in a number of countries around the world and has got the stories to prove it. He has a number of novels so far, a few of them bestsellers and all released to critical acclaim. His features regularly appear in newspapers and magazines around the world and, by all accounts, he's living the life of Riley.
Why Should Stu Become My New Favorite Writer?
Stu is also a writer who possesses the uncanny ability to make pure comedy leap off the written page. His excellence in travel writing comes from a 25 year history in the industry, and there seems to be no limit to his creativity.
Top Picks:
Side-splitting experimental travel in Asia.
98.
Michele Peterson
http://michelepeterson.com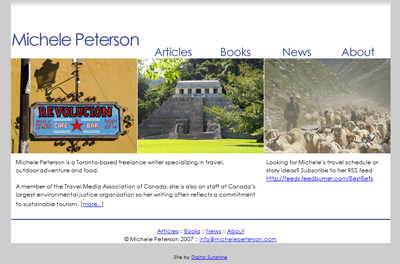 Highlights
Michele is a member of the Travel Media association of Canada and first caught the travel bug while working as a consultant in Russia, Bolivia, Guatemala and Canada nearly a decade ago. Following her academic studies in travel writing, the rest is history - she has gone on to write for the Toronto Star, the Boston Herald, Homemakers, Air Canada's in-flight magazine and numerous anthologies.
Why Should Michele Become My New Favorite Writer?
Michele certainly gets up to some odd things (including swimming with Beluga whales and extreme detox treatments), yet we get the feeling she could probably write about tax returns and still turn it into a lively and thought-provoking article.
Top Picks:
The aforementioned freezing detox session.
99.
Rob Goss
http://www.tokyofreelance.com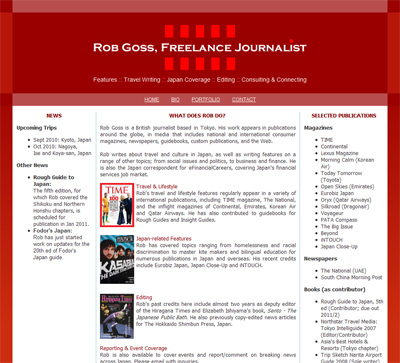 Highlights
Japan is a dizzying country for the uninitiated, and expert freelance journalist Rob Goss has been shedding light on its multi-faceted nature for over ten years. Not only has his work featured in mainstream magazines, newspapers and in-flight publications, but also in Japanese language publications too. Additionally, Rob works freelance as an editing and consulting guru.
Why Should Rob Become My New Favorite Writer?
Rob is one of the best Tokyo-based travel journalists we read regularly and has produced some definitive guides to the region. While his writing does not always concern itself with Japan, any article in which he explores the country's culture and social issues are worth checking out and are an unmissable treat for any fans of the Far East.
Top Picks:
Rob regularly contributes to iNTouch magazine.
100
Duncan Rhodes
http://www.urbantravelblog.com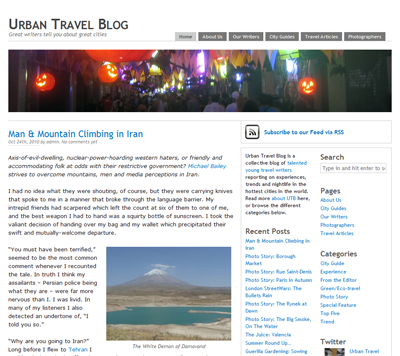 Highlights
Duncan has never stayed in one place for very long. Originally from the UK, he has lived and worked in Sydney, Vietnam, Krakow and currently Barcelona. It was his time working on for the Cracow-Life site in Poland which saw him embark on his successful travel writing career, leading regular work for many in-flight magazines and sites across Europe and Beyond. He also nurtures a few travel-related sites of his own, the most notable of which being the team-run Urban Travel Blog (which is exactly what it sounds like).
Why Should Duncan Become My New Favorite Writer?
Duncan is one of the most talented young writers on this list, and his love of culture, nightlife and great city destinations is testified by his continued hard work in online publishing.
Top Picks:
His own personal blog serves as great inspiration for aspiring travel writers.
<< Previous 10
First 10 >>
Find us on Google+