Home
>> 100 Of Our Favourite Travel Writers

<< Previous 10
Next 10 >>
81.
Christopher Vourlias
http://postcardjunky.wordpress.com/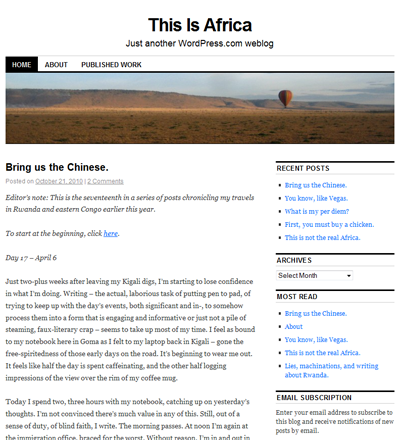 Highlights
Born in Brooklyn, Christopher's work as a travel writer has taken him to Johannesburg where he's living permanently (unless, of course, he relocates again). His articles have appeared in such mainstream publications as The Guardian, National Geographic Traveler, Sports Illustrated and The New York Times, but perhaps his blog is the best place to head in order to get updates on his spectacular adventures.
Why Should Christopher Become My New Favorite Writer?
Always well-thought out and penned, Christopher's inspired (albeit infrequent) blog posts on South Africa and beyond never fail to entertain and provoke thought. You'll be hard pressed to find a dull moment amongst his travel tales.
Top Picks:
The first of his captivating series on Rwanda and eastern Congo.
82.
Beth Arnold
http://www.betharnold.com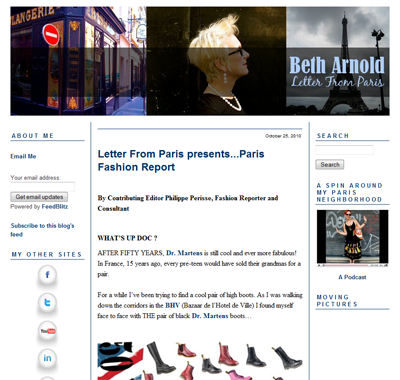 Highlights
Beth is a regular contributor to the Huffington Post with her Letter From Paris new media project. She has also written for Rolling Stone, GQ, American Way, Mirabella, Vogue.com and many others. She has created such an impact in the blogosphere that she received notable mention in the Huffington Post Complete Guide to Blogging in 2008.
Why Should Beth Become My New Favorite Writer?
Beth is arguably the most prolific, and best, blogger currently active within the fine city of Paris. Her exploration of all things Parisienne is highly engaging and punctuated with some amazing images and great guest articles - a must-read for fans of culture.
Top Picks:
A positive look at the world of air travel and the OpenSkies operator.
83.
Judith Fein and Paul Ross
http://www.globaladventure.us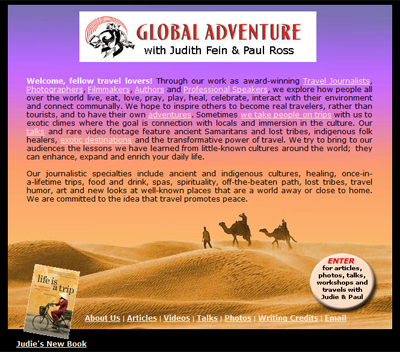 Highlights
Paul and Judith are a travel duo with more than a couple of awards between them as they create travel videos, teach writing and photography and deliver their own brand of 'travel performance', a multi-media experience like no other.
Why Should Judith and Paul Become My New Favorite Writers?
The team are extraordinarily gifted when it comes to engaging others in their travel stories and inspiring people to create their own. Trying to sum up their collective output in such a small space is an impossible task, so we recommend heading to their website to get a feel for their unique brand of travel journalism.
Top Picks:
Here's a great taster of one of Judith's talks.
84.
Marybeth Bond
http://www.gutsytraveler.com/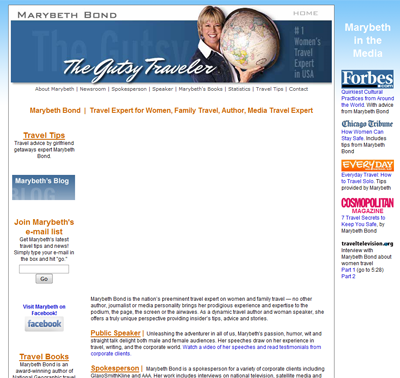 Highlights
Marybeth is the leading expert on women's travel and has contributed to eleven books to date, has countless magazine credits and regularly appears on national news broadcasts by CBS, CNN, ABS, Fox News and others. She has received awards in recognition of her contribution towards women's travel and continues to juggle family life with adventure around the world.
Why Should Marybeth Become My New Favorite Writer?
With such an impressive career history, you'd think the fame would go to her head. Not so, as Marybeth consistently delivers great advice, tips and featured articles on all aspects of globetrotting. Her fearlessness knows no bounds as she regularly embarks on exhilarating trips to stunning (and not so stunning) locations.
Top Picks:
Some excellent tips from an industry leader.
85.
Ron Stern
http://www.ronsterntravel.com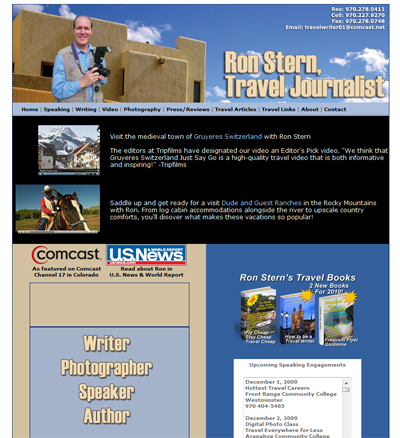 Highlights
In a previous incarnation, Ron grafted a career in law enforcement but was no stranger to writing even then, having published a successful book on the topic and founding a publishing company to help promote others. Since 1990 however, Ron fell into freelance writing for a living and became the travel writer whose work and speeches we enjoy today.
Why Should Ron Become My New Favorite Writer?
Ron has a wealth of travel experience to draw from, having travelled extensively throughout Asia, Europe and the Americas. It is always a pleasure to read a trip report of his, not least because it tends to spark off travel ideas we can implement in our own itineraries.
Top Picks:
Alongside Ron's homepage, he also serves as the Editor-in-Chief of JustSayGo.com.
86.
Todd Pitock
http://www.toddpitock.com/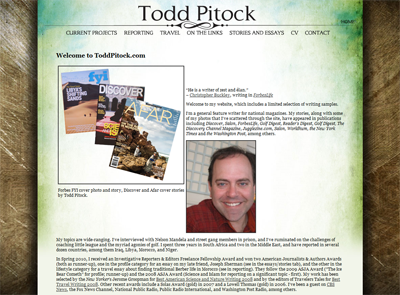 Highlights
Alongside a staggering amount of awards for his tremendous work so far (including a Lowell Thomas gold award in 2006), Todd has enjoyed success as a feature writer for many national magazines including Reader's Digest, Golf Digest, Discover, the New York Times and many more.
Why Should Todd Become My New Favorite Writer?
Todd is based just outside of Philadelphia but his travel journalism has taken him to many troubled parts of the world, including Iraq, Libya and Niger. Needless to say, with his level of expertise coupled with such fascinating subjects just about everything Todd writes is solid gold.
Top Picks:
Todd's excellent Moroccon odyssey is one of his most accessible and enjoyable pieces, with stunning photography
87.
Paul Ruschmann
http://www.paulruschmann.com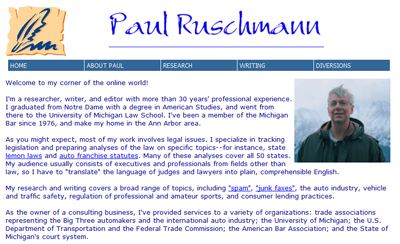 Highlights
Paul is a multi-talented man, being a lawyer, author, academic research and travel addict. He has explored (and studied in) Europe, the States and the Far East extensively and although some would class him to be an underground writer in the travel scene, his works in this field rank up there with some of the best.
Why Should Paul Become My New Favorite Writer?
Paul's style strikes a fine balance between analytical and sentimental, especially when discussing his time in China. His tales are always easy to relate to and he is never afraid to call it exactly how he sees it.
Top Picks:
A prime example of the above.
88.
Linda Jackson
http://www.linda-jackson.co.uk/
Highlights
Linda naturally fell into travel writing after her career in International Relations, moving around from the UK to Brussels, Dubai, Barbados and Paris and touring many more. She has been published in a number of golf titles as well as the mainstream UK press, and has an extensive contribution history to lifestyle and bridal magazines. In addition to all this, her skills as a web editor and proof reader are second-to-none.
Why Should Linda Become My New Favorite Writer?
Linda is lucky enough to have travelled to many dream destinations, and thankfully shares her experience with the reader in a captivating and casual style. That said, she is not one to glorify something unnecessarily and her location guides are trusted by many (her photography is always a visual treat, too).
Top Picks:
The resulting article from one of Linda's enviable assignments.
89.
Ian Watson
http://www.ianwatsonuk.com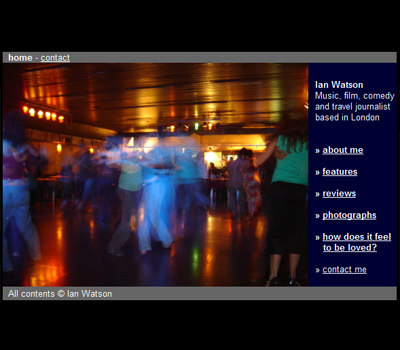 Highlights
Ian is a writer of multiple and intertwining disciplines, working in not only travel journalism but also music, film and comedy, and when he isn't writing he takes to the decks as an acclaimed indie DJ. We couldn't tell you how many hours are in the average Ian Watson day but his publishing credits over the last 20-odd years have placed him at the top of his game... if you're a UK music writer, what higher accolade is there than working for Melody Maker, NME, Metal Hammer and the BBC? While music is clearly Ian's primary love, his brilliant if less frequent travel writing is of equal caliber and can only come from someone with a sharp eye and tons of experience.
Why Should Ian Be My New Favorite Travel Writer?
Simply put, Ian is one funny guy. This may sound somewhat obvious since he lists himself as a comedy writer, but he applies this work ethic to everything he pens and with non-stop consistency. If you like quick wit and fresh writing, you could do much worse than check out the samples on Ian's site and subsequently follow him through one of the many publications he works with.
Top Picks:
Great coverage of the iconic Edinburgh Fringe Festival.
90.
Janet Forman
http://www.janetforman.com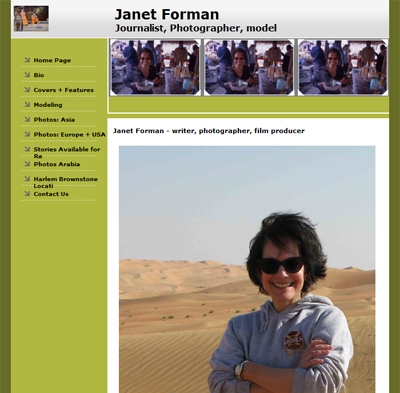 Highlights
To win one Lowell Thomas award is a fine thing. To win two requires outstanding talent in the field of travel writing, something which journalist and film producer Janet Forman possesses by the bucket load. She has travelled to every corner of the globe, both to indulge her passion for travel and in search of great stories (which she has subsequently found and published in countless high-profile publications).
Why Should Janet Become My New Favorite Writer?
Janet has racked up a mind-boggling number of awards for her gifted writing over the years, and you only need to dip into one of her features to understand why. This truly is travel journalism at its very best.
Top Picks:
A great interview with the lady herself.
<< Previous 10
Next 10 >>
Find us on Google+