Home
>> 100 Of Our Favourite Travel Writers

<< Previous 10
Next 10 >>
71.
Geraldine Sherman
http://www.geraldinesherman.com/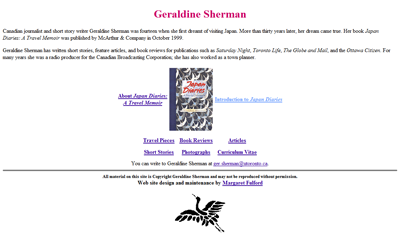 Highlights
Geraldine is a Canadian author and surely one of Canada's finest travel journalists. She first noticed her wanderlust at the very early age of 14, and some years later found her dream of becoming a respected travel writer coming into fruition. Her manuscript, Japan Diaries: A Travel Memoir was available to her fortunate readership in 1999 and her short stories have played a major part in her travel career.
Why Should Geraldine Become My New Favorite Writer?
Geraldine is a down-to-earth woman who has many exciting stories to share, just like any other seasoned traveler. However, what sets her aside from others is her mastery of telling these stories via the written word, turning every anecdote into a memorable tale we can all relate to
Top Picks:
An exhilarating reminiscence of her time in Japan.
72.
Runaway Jane
http://www.runawayjane.com/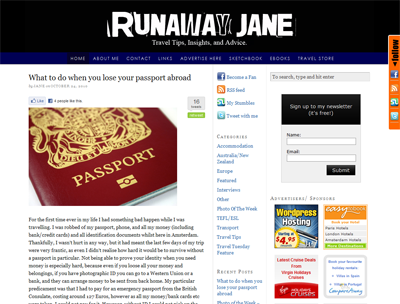 Highlights
With a named like Runaway Jane, you've got to expect someone who is always thinking of pastures new. After becoming bored of her career in sales, she abruptly decided to take a trip to Australia for an entire year. After a fantastic and eye-opening time there she has since returned to Scotland and makes as many trips as she possibly can while studying arts. Now Edinburgh is her base of operations, and she is working to make travel writing not a passion but a way of life.
Why Should Jane Become My New Favorite Writer?
Deep inside, everyone secretly wishes they had the bravery to merely walk out of their day job and trek to some distant, far, foreign corner of the world like Jane. This makes her something of a role model with her fan base and inspires us all to great heights. Not only this, but she provides practical advice on making our travel dreams a reality.
Top Picks:
73.
Claire Boobbyer
http://www.claireboobbyer.com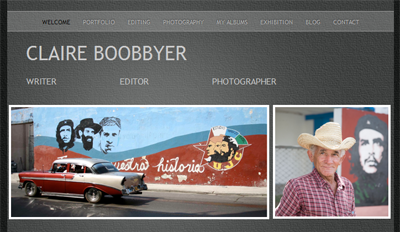 Highlights
Claire is a well-travelled freelance writer whose specialist interests lie with Cuba and Vietnam. She has worked as an editor of more than 30 different country guides and has voyaged to in excess of 40 different countries. In March this year she released her Frommer's guide to Cuba, which comes highly recommended to anyone considering a visit.
Why Should Claire Become My New Favorite Writer?
Claire's style is refreshing and shares her pleasure of travel with anyone who comes across her work. She writes in a manner that completely captivates the reader and invites them into the places she has visited, and at the very see them vicariously through her words. A first-class writer.
Top Picks:
Claire describes her all time favorite moments in Cuba.
74.
Andrew Eames
http://www.andreweames.com/index.htm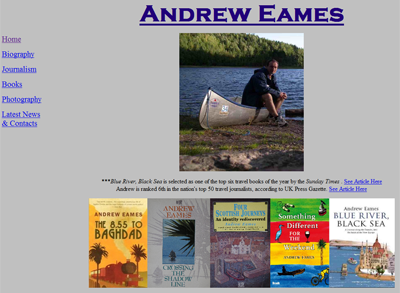 Highlights
Andrew has had his fair share of writing and editing during his tenure working as sub editor for The Times. This has contributed greatly to his literary advancement and following this, his latest book "Blue River, Black Sea" has enticed his readers to keep their eyes fixed on Andrew's great outputs which we hope will continue for many years to come.
Why Should Andrew Become My New Favorite Writer?
He has a relaxed fashion whilst writing but this is not to say that Andrew can't entrance his audience. He has the ability to master any topic which he turns his pen to and is charismatic right from the off.
Top Picks:
Take a dip into the chilly sea waters of Brighton, UK.
75.
Rolf Potts
http://www.rolfpotts.com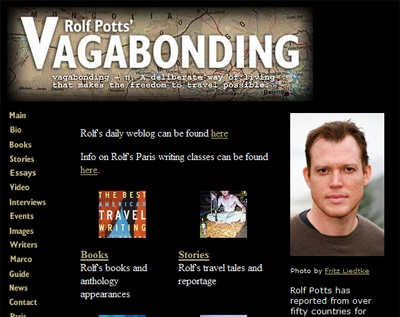 Highlights
Rolf has reported from an impressive amount of countries (over sixty to date) for massive titles such as National Geographic Traveler, Outside and the New York Times Magazine. He is a champion of adventure travel and has authored two books, the latter of which (Marco Polo Didn't Go There... 2008) picking up the much coveted Lowell Thomas award and a Chatwin Prize for travel writing.
Why Should Rolf Become My New Favorite Writer?
Rolf is one of the most experienced travel writers active today, and his incredible collection of stories ignites the minds of many aspiring travel junkies and writers. There is very little he hasn't done, and even less he hasn't reported on with an unparalleled level of skill.
Top Picks:
Rolf flexes his critical muscles in this discussion on Eat, Pray Love.
76.
Sandy MacDonald
http://www.sandymacdonald.com/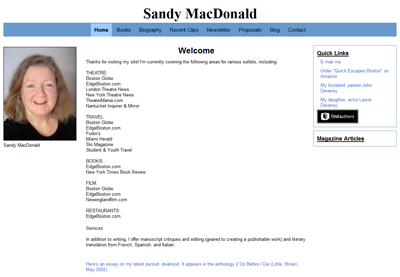 Highlights
Sandy has been writing and editing for decades, and her level of experience has turned her into a one-woman powerhouse in the fields of travel, arts, media and others. She is the recipient of numerous high-profile writing awards and is member of numerous North American associations.
Why Should Sandy Become My New Favorite Writer?
Sandy's work can be enjoyed by any fan of travel, but comes into her own when writing about issues pertaining to family travel. Her stories serve not only as great tales in and of themselves, but also as excellent guides for anyone following in her footsteps.
Top Picks:
Her coastal guide featured on Edge Boston.
77.
Lora Shinn
http://www.cascadiakids.com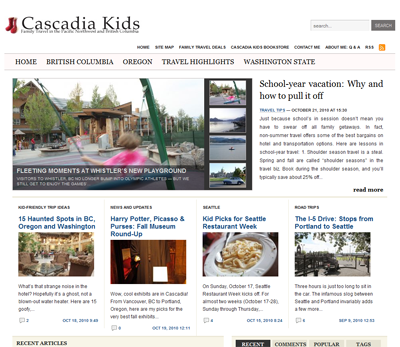 Highlights
Lora is a freelance journalist, travel enthusiast and mom based in Washington. She began her mission to document and promote all the best family-friendly hotspots throughout British Columbia, Oregon and Washington some time ago and has so far seen tremendous success.
Why Should Lora Become My New Favorite Writer?
Lora is a champion for independently owned and operated businesses and her services to the travel and hospitality industry are highly commendable. She is an expert in her resident area and has provided assistance to countless families passing through and the travel tips, contests and giveaways on her site are well worth checking out.
Top Picks:
Her personal thoughts on camping in Oregon.
78.
Kim Wildman
http://www.wildwriting.com.au/index.html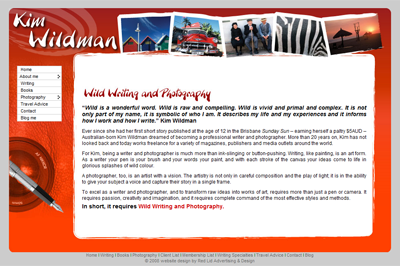 Highlights
Australian-born Kim's first writing credit appeared at the age of 12, sparking off her lifelong desire to become a professional writer and photographer. The dream came into fruition not too long afterward, with her features on travelling in both Africa and Australia appearing in publications throughout the world.
Why Should Kim Become My New Favorite Writer?
Kim is a lover of adventure and this shines through whenever she puts pen to paper in order to narrate her spectacular travels. She is an advocate of solo travel and is equally as engaging when writing about canoeing the Zambezi River as when she is on a road trip through the States, though we get the feeling she is most in her element when exploring the most remote corners of the globe.
Top Picks:
South Africa: the Road Less Travelled.
79.
Douglas Rogers
http://www.douglasrogers.org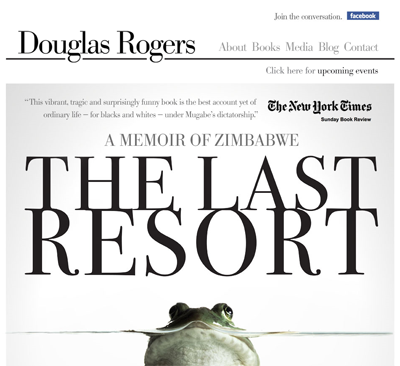 Highlights
New York-based Douglas Rogers was born in Zimbabwe and grew up to become a seasoned traveler, journalist and author. His cutting edge stories on Africa have been recognized with numerous awards and he has offered his expertise to the BBC World Service, The Connection (PBS) and the students of his travel writing workshop in New York.
Why Should Douglas Become My New Favorite Writer?
Quite often political in nature, Douglas' articles on the lives of everyday people in extraordinary circumstances are simply journalism at its best. His book, The Last Resort, has received great acclaim for its harrowing yet inspiring narrative on Zimbabwe past and present.
Top Picks:
And just in case we've made his style sound too heavy, here's an example of his more playful work.
80.
David Farley
http://dfarley.com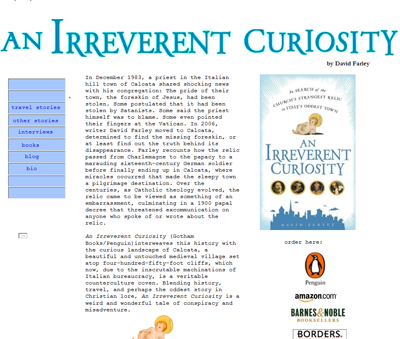 Highlights
David Farley is a household name in travel literature, with his stories attracting many notable mentions and even a Lowell Thomas Award in 2005. He has been published in nearly every large publication you could name, including The New York Times, The Washington Post, National Geographic Traveler, the World Hum site and many others. He rarely stays in one place for any length of time, though for now he calls New York his home.
Why Should David Become My New Favorite Writer?
How's this for a hook: David's latest book, "An Irreverent Curiosity...", sees him search throughout Italy in a hunt for Jesus Christ's foreskin. And if that doesn't pique your interest, there is a large variety of travel tales available through his homepage.
Top Picks:
David's World Hum article on the dangers of travel writing.
<< Previous 10
Next 10 >>
Find us on Google+