Crystal cruises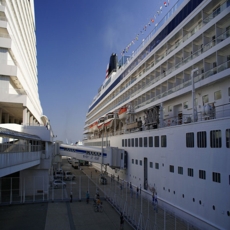 There are such a huge number of cruise lines around these days that it can sometimes be hard to know exactly how luxurious one line is from another. After all, some of them are budget lines, while others are six-stars and little in the literature provided by the cruise companies helps us to distinguish exactly which ones are the high-end and which are the ones that are going to make you pay for hundreds of extras. These extras might just be the thing that will end up costing you so much that you might as well have booked a proper full luxury cruise in the first place. Distinguishing between the high-end luxury and the budget luxury is an important skill for any cruisers to have.
With Crystal cruises it's very clear that they operate towards the high-end of cruises. The two ships that the company is known for are operated by a Japanese company, and each of them carry around 1,000 guests. This is a relatively small number for a cruise ship so you can be sure to get to know your fellow guests, and be sure that you're regularly bump into familiar faces, and not be lost in a sea of strangers while you're actually at sea. The readers of the Condé Nast's popular travel and adventure magazine Traveler have voted the line the best Large Ship cruise line for the past 16 years, and similar plaudits have come from other travel magazines like Travel + Leisure.
It seem that Crystal cruises are really doing something right. But what separates them from the competition? One of the Crystal cruises catchphrase is "Your Wish, Our Command" which embodies their commitment to customer service. But just because they make such big promises doesn't mean that you have to pay an incredible amount.
In 2011, as well as visiting many new ports on maiden trips, and returning to West Africa for the first time since 2001, there are offers like 2-for-1 which will help make the whole experience cheaper. Their cruises are very career friendly, with cruises able to depart on Friday, Saturday, or Sunday depending on your work schedule. Crystal cruises are not trying to be the best in cruising. It seems that they are trying to be the very best in all of the travel industry. They like to combine onboard enrichment activities with onshore excursions to get a good balance and keep passengers happy.