Cruising with kids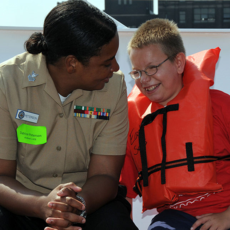 Cruising used to be something that was for the high-classes, something that only older people would do. It was an upper-class affair were everything was rather formal from the strolls on the deck to the incredible feasts in the evening everyday. These days however, things have really changed.
These days, cruising with kids is just as normal as dressing up smartly for dinner. You'll also note that not only is cruising with kids increasingly normal but it's also something that cruise line have realized is an opportunity worth exploiting. As cruising became a mass market holiday, there was inevitably going to come competition from cruise liners that specialized in a holiday for this new type of vacation: the family holiday. Cruising with kids is no longer a struggle to keep them entertained.
Does your kid like swimming? Good, there's a pool on almost every cruise ship. Some have a dozen pools, with ones specifically designed just for parents so that when cruising with kids, they can actually get some time to the themselves. Of course, these pools are overshadowed by the huge children's pools. In fact, they aren't so much like pools these days but like water parks with big looping slides allowing children to have all sorts of water based fun, while travelling at sea, in the safety of a swimming pool.
Of course there is nothing stopping the adults from using these exciting areas too, it's just usually the kids who are more eager to jump down the slides hundreds of times throughout the whole holiday. Then there's all the other things that have been improved so that cruising with kids has been made even easier, and something that the adults can appreciate too. Children like being able to eat when they get hungry.
And all that swimming is hard work. So it's no surprise that the cruise liners tried to improve cruising with kids by opening more buffets and fewer restaurants on board. This allows cruisers to eat their meals at whatever time of the day suits them. It works perfectly for the kids who may not want to get up early for breakfast, and it works for the adults who can get their children fed whenever they like, with no worries that children staying in the pool for too long will end up actually missing dinner and going to bed with no supper. Cruising with kids these days is easy.