Regent Seven Seas cruises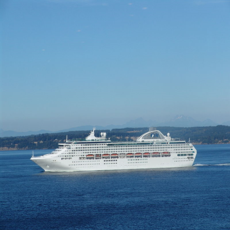 On Regent Seven Seas cruises you'll get to experience more than 300 different destinations on your adventure around the world. And that's not 300 destinations on only a couple of continents, but 300 different destinations spread across every single continent in the world. Indeed, Regent Seven Seas cruises are one of the few cruise lines that heads all the way down through the South Seas, not happy with just Tahiti, all the way down to the Antarctic. Their self-described 'luxury' are certainly for the traveller interested in relaxing and having a really enjoyable stay on a ship that isn't overrun with thousands of travellers who, disembarking, seem to hugely outnumber the number of natives at the excursion.
No, on a Regent Seven Seas cruises you will be among one of a few hundred cruisers rather than one of many several thousands. This is of course has a number of big adventures, firstly there's the excursion thing already mentioned. Then of course there is the fact that you'll not likely have to wait so long to use on-board activities such as a swimming pool.
You'll be able to swim at any time of the day without it being overrun with kids in the middle of the day. You'll also be treated more like an individual. Staff will be more likely to remember your name. The fact that Regent Seven Seas cruises call themselves "upscale but not uptight" indicates the fact that they want to provide luxury but are kind to avoid being seen as the sort of company that will enforce a dress code or quite simply do anything that could put at risk their idea of themselves as being a nice and friendly company that's eager to give you the holiday of your dreams. The Regent Seven Seas cruises are also sold as being ultra-luxury, and this is something that you should therefore expect to pay dearly for.
After all, you don't get 6 star treatment without really paying for it. And Le Cordon Bleu menus and all-balcony suites don't come at a cheap price. Regent Seven Seas cruises are certainly towards the high end of the cruise business. It's for this reason that Regent Seven Seas cruises all are indeed actually all-inclusive cruises, with all excursions and the most alcoholic drinks included in the price. After all, the worse thing is to get home and find you've paid too much for the cruise than you can afford.