Wedding Cruises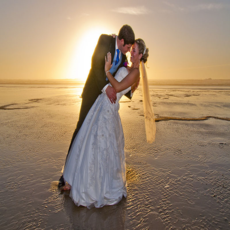 With a wedding cruise you can take all the stress out of planning your big day and have someone else take care of it for you. Even better, you can combine the wedding and honeymoon into one big event and perhaps even save money. Rather than having a huge wedding that involves hundreds of different people all coming, you can instead spend the money on yourself and only your closest family in order to have a wedding that you'll really be able to enjoy, and one that won't leave you deep in debt.
Many cruise ship companies offer the potential for their guests to get married during a regular cruise. After all, wedding cruises would not be so good if you went on one with dozens or hundreds of other couples who were also going to be getting married during the cruise. Instead, just find a normal (but luxury) cruise that you'll both enjoy, along with anyone else who is likely to go, and find out if the cruise company is able to offer you a wedding package.
Some will be able to do weddings on the ship, while others will of course be able to arrange a wedding on a beautiful tropical beach, an occasion that you can remember forever. You could then immediately head on your honeymoon anywhere in the world, or do what a great number of people are already doing and simply have your honeymoon on the same boat that you came in on. You will have got on the boat as just an engaged couple and you will leave the boat as man and wife, ready to start your new life together.
There are some companies which are particularly attuned to the demands of couples, and able to provide particularly special wedding cruises. One in particular offers a particularly appealing wedding at sea where it'll actually be the captain of the ship who will marry you, and have a ceremony that is streamed live on the internet so that your wider group of friends and family are able to watch the whole thing at home. They will have done many weddings before so they will be able to customize a wedding for you or you can simply leave the whole thing up to them. Among the sort of things that can be provided on wedding cruises is a rock and roll party on the ship, a private beach island for your wedding night, and a helicopter ride if you want to get married on a glacier.