Solo cruises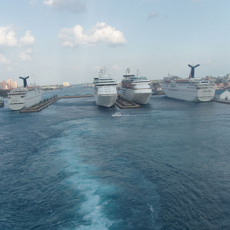 Solo cruises do not have the sort of stigma that they once had. In fact, solo cruises are now a very popular choice for people who want to meet a wide range of people just to make new friends, or if you're interested in developing a relationship with a new person. If you don't live in a big city then meeting someone can often be difficult especially if you hate dates, and have found speed dating and online dating to be simply not good enough.
You certainly don't need to feel any problem with going on a normal cruise alone. It seems that an increasing number of people are going on normal cruise holidays even the ones that aren't explicitly for singles or solo travellers and there is no reason these days not to do so unless you're afraid of being looked at strangely. After all, even people who are in a couple or have come with a big group of people aren't with them all the time so someone on their one will actually never look out of the place if you really think about it.
But there are of course solo cruises for people who want to combine a holiday with the opportunity to meet people and hang out with people. There are lots of advantages to travelling alone. Firstly, you'll be able to choose whatever destination you like, and not have to compromise on the place that you want to visit, instead being able to choose the exact holiday you want to get.
While it will sometimes be more expensive to travel alone because you cannot split the cost of a room, most cruise ships will actually not charge per room like most normal hotels, but will of course charge per person. So it's not necessarily true that a cruise ship experience will be more expensive for the single traveller. Solo cruises are actually different to singles cruises. On solo cruises there isn't such a romantic relationship expected, and there won't be so many chance to date and meet the other passengers in such a romantic setting. Instead solo cruises are for passengers who want to travel with other people, other people who are travelling solo. If you really want to be able to travel in a cheap way while on these solo cruises you could always ask to share a smaller cabin with a stranger, which will really cut the price down to a more reasonable price.